After two horrible pregnancies, I figured out the morning sickness remedies my body needed to go from puking 12 times a day to almost never. With my first pregnancy I was put on a nausea medication that basically made me sleep 3 months of my life away. When I wasn't sleeping I was still puking. Then I was tricked into a second pregnancy by my mother (I still love you Mom). She told me the first pregnancy is always the worst… So, since my husband and I really did want more kids, I got pregnant again. But for as bad as the first pregnancy was the second was far worse. I was on 3 nausea medications and still puked constantly. It was normal to find myself making that frequent mad dash to the toilet anywhere from 6 to 12 times a day, even with the meds!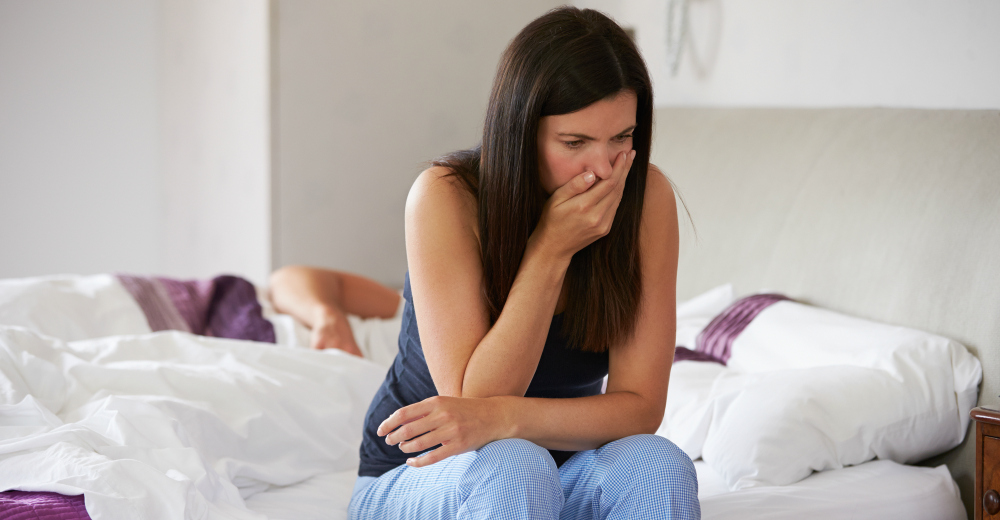 After baby number 2, I still wanted more kids… that is when my research really began and I found real food. I just couldn't believe that women were meant to throw up all the nutrients they eat. It just seemed very maladaptive to be trying to grow a perfect little infant and not be able to nourish her properly. Don't you agree?
After a lot of studying, and dietary changes, and work it was time to prepare for baby number 3. My fingers were crossed. There was only one way to know if all my efforts would actually save me from living with my head in the toilet. I had no idea how far I had come, and all I could do was hope that it wouldn't be a miserable 9 months. But the difference was amazing! I threw up maybe 12 times TOTAL, during my third pregnancy and I knew what I did wrong every single time.
The first time was because I had to clean up cat vomit. I tried very hard to convince my 7 yr. old to do it. Sadly, she wasn't convinced. Instead she watched me grab it with a paper towel, take 2 steps to the trash can, drop it in, take one step to the toilet and puke. And yes, she laughed hysterically! I would have been better off leaving it for my husband.
Some of the other times were due to eating the wrong foods. I kept my diet pretty clean, but my in-laws do own a fast food restaurant, and that tends to be where we go to visit Grandma. One single little fry cooked in soybean oil sent me running. That was the last fry I dared to eat there. After that I vowed to never again need to bow over a public toilet.
A few times were because I neglected to eat the right foods or take my supplements.
So are you wondering how to go from throwing up 12 times a day to never again?
Natural Morning Sickness Remedies
Magnesium: The Super Morning Sickness Remedy
Magnesium is probably the number one most important element to eliminating morning sickness. It works best if you plan ahead, and before getting pregnant you spend 3-6 months upping your magnesium levels. If it is too late for that, these tips will still be a tremendous help.
So how does it work?
"You've probably heard by now that cortisol (the stress hormone) can cause weight gain, but did you know that's because one of it's main functions is to increase blood sugar? Yep, excess cortisol in your system takes your blood sugar through huge spikes and crashes, resulting in fatigue and nausea (aka morning sickness).
Normally, magnesium balances cortisol levels by cleaning the excess from our blood. BUT – Pregnancy hormones inhibit our ability to absorb magnesium! This can lead to a vicious cycle in which excess stress hormones cause nausea, which causes stress, which we can't fully remedy because the very thing we need we can't fully absorb, and then you get this → Ugh!"
Magnesium is absorbed best transdermally, although orally is still beneficial. I did both throughout my pregnancy. You can use epsom salt or magnesium oil in the bath, or do a nightly foot soak. Personally I prefer the magnesium oil, like this. I also took it orally. This is the best kind I have found. It is a slow release supplement so it will keep magnesium levels stable throughout the day.
More on Magnesium:
Cod Liver Oil
Aside from the sun, Cod Liver Oil is the best source for vitamin D. It is also a great source of Omega-3's and vitamin A. Vitamin D is essential for proper absorption of magnesium. And the healthy fats will help with balanced hormones.
Quality Prenatal Supplement
There can be a lot of issues when trying to choke down prenatal supplements. Some even bring on the nausea, leaving you wondering if trying to take them makes you worse off. I've tried several. I finally found these, and loved them. Not only did they not make me lose my lunch, but they actually did their job and kept me from becoming anemic. They are a raw prenatal, with all natural ingredients. Find it here. If you still can't handle these I recommend going with a chew-able prenatal. I like this one.
It is also very helpful to be taking a quality prenatal consistently for at least 6 months before getting pregnant. As well as implementing the other food and supplement recommendations in this post.
Bone Broth/Gelatin
Gelatin is essentially bone broth. Bone broth is how broth use to be made. If you've ever heard someone tell you that chicken soup will help you feel better, you should know it comes from bone broth. And it really does help you heal. It also helps you digest food better, and reduce morning sickness. It is high in calcium which helps with magnesium absorption. Bone broth also helps the body produce bile making you less nauseous.
This gelatin doesn't gel, making it great to add to some chamomile tea, or a smoothie. It will help you sleep, help you reduce the risk of stretch marks, and help with nausea. This gelatin does gel and is awesome in gummy treats and desserts.
Bone broth tutorials and recipes:
Raw Milk
Raw milk is rich in calcium, contains vitamin D, and is mildly probiotic. Eat yogurt, homemade ice cream, and drink it plain or make milk kefir.
Worried about the safety of raw milk while pregnant? Read this!
Meat: It's What's for Dinner
Any and all, preferably from pastured animals. Focus on dark fatty meats. I know this advice is a little backwards from mainstream diet advice, but you are building a baby, you are expanding your uterus, and developing a placenta. All of this extra blood and organ tissue needs proper nutrients to develop.
You need extra iron. Eat liver! (I know it is disgusting, and I never would have guessed I would endorse it so highly). Liver is super nutrient dense, your body and baby need the iron and other nutrients to thrive. Have someone else prepare it, if needs be, or hide it in any dish you can think of, but eat it regularly. If regularly consuming liver is just too much for you to stomach, it still isn't a food I look forward to eating, then these liver supplements are amazing!
Eggs are awesome. Eat them often. Eggs are very similar in nutrients to liver but they taste a lot better. Egg yolks are also great for fetal brain development.
Ginger
Have you ever heard of soda being used to cure nausea or remedy morning sickness? Well, guess what? It's true… errr… or use to be. If you make soda (like this) the way it was originally made then it could be a tremendous help for calming morning sickness. And guess what it uses ginger! So you get soothing bubbles, and lightly fermented ginger that will help keep that mummy tummy calm. You could also try making a ginger tea.
Raw Carrots
Raw carrots are awesome! I'm sure you've heard they are great for healthy eyesight, but did you know that they are also great for healthy hormones? Raw carrots help clear excess estrogen from the body (more here). So, by eating raw carrots you can help keep your hormones stable and avoid or remedy morning sickness. During my third pregnancy I ditched the crackers and snacked on raw carrots when I felt the morning sickness coming on, and it really did help!
Tips for what NOT to eat to avoid Morning Sickness
Sometimes the best remedies aren't what to add, but instead what to stop doing. In this case, if you quit eating some foods you will discover some of the best morning sickness remedies for your pregnancy.
Ditch the Sugar
For every molecule of sugar you consume, it requires 54 molecules of magnesium to process it! Basically, sugar leaches vitamins and minerals from your body, including magnesium. Just don't eat it. If you need a sweet treat use real maple syrup or raw honey. Also, keep it in moderation. Imbalances in blood sugar can be a trigger for morning sickness.
Awesome Healthy Treat Recipes for Pregnancy:
A Caution with Grains Especially During Pregnancy
Grains should all be soaked soured or sprouted. Whole grains contain phytic acid. Phytic acid binds nutrients like magnesium to them and then your body can't absorb them. And we want all the magnesium we can get! Also, keep in mind that grains are not the most nutrient dense food, and pregnancy is all about eating foods that will leave you and your baby well nourished.
Check out these recipes and tutorials to learn how to properly prepare grains:
What Fats to Use for Morning Sickness Remedies
When you're pregnant, fat can either send you running to worship that stinky porcelain God or it can send you into a state of nausea free bliss. So what's the trick? Hold on… I'm about to undo everything you know about fat. Are you ready? You NEED saturated fat.
Hormones are built out of saturated fat. They will be better balanced if you are eating plenty of it, and less likely to subject you to heaving into a barf bucket. No pregnant woman needs to self inflict hormone induced nausea just because she is afraid of fat.
Your special baby is trying to develop a fully functional genius brain, and that brain is for the most part made up of… you guessed it… saturated fat!
So eat lots of saturated fat! Eat butter, lard and tallow from pastured animals. Eat coconut oil.
More on Saturated fat:
On the flip side, you do NOT want to eat soy bean oil, margarine, canola oil, shortening, or any seed or vegetable oils. They will make you feel sick. Period. Besides, they aren't healthy for you or your baby.
More on why NOT to eat these kinds of fats:
Want more tips to help with morning sickness and pregnancy? Read these:
More so than any other time, our bodies show us just how healthy we are during pregnancy. Morning sickness, is really an indicator that our health is out of balance. There are lots of theories about what causes morning sickness. I firmly believe that many of them are right. It isn't just one thing causing it, and that is why conventional medicine doesn't have great morning sickness remedies. Your morning sickness could be caused by a blood sugar issue, a cortisol issue, a hormone issue, a thyroid issue, a nutrient deficiency, or bad bacteria in the gut like h. pylori or candida. Or it could be a combination of these issues. Ultimately, if you want the best morning sickness remedies, you simply need to take care of yourself, and eat well, and take quality supplements. Additionally, if you think you have an issue with your health seeing a naturopath and healing will greatly benefit future pregnancies.
Check out The Vibrant Pregnancy Starter Kit!
Because we know how challenging pregnancy can be, and we want you to feel amazing and vibrant during your pregnancy we created a pregnancy starter kit for all you mamas for free. Get it here!
Do you have morning sickness remedies that worked for you? Share the love for all of those pregnant mamas that are looking for answers, by commenting below.
Like this post? Please share it by:
Pinning it here!