If you aren't already making bone broth and stocking it, I would encourage you to start. Eating nutritiously can be expensive but bone broth or stock is a super nutrient dense food and it's inexpensive to make. It not only is extremely nutritious but it adds great taste and flavor to so many dishes.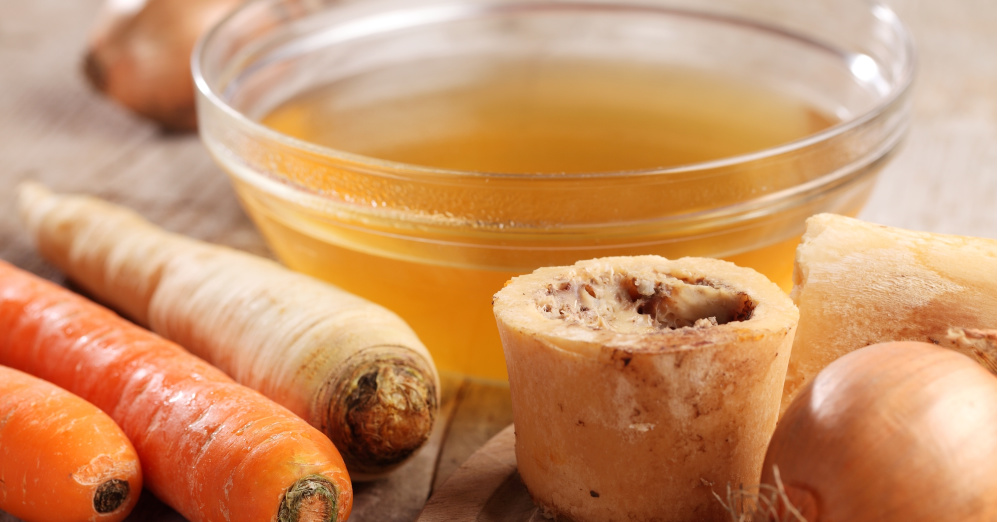 Why Bone Broth?
Besides being delicious and nutritious, bone broth is also known for boosting the immune system.
Chicken soup for when your sick, right?
It's the bone broth. It improves immune health and digestion. Broth or stock is full of vitamins and minerals. The magnesium, calcium, and phosphorus it contains help improve bone and tooth health. It's high collagen content helps support joints, hair, nails, and skin. Some believe it even reduces cellulite.
After reading Gut and Psychology Syndrome one realizes some of the potential bone broth has in promoting personal health. This book explains the link between gut health, immune health, and brain health. Bone broth plays a vital role in promoting health in all three areas.
What Kind of Bone Broth?
Homemade bone broth is super easy and inexpensive to make. It is also more nutrient dense than store bought bone broth which can sometimes contain MSG or lack gelatin.
One sure thing to consider when making bone broth is the source of your bones. Because you are extracting the minerals and consuming them in a condensed form you want the animal you are getting them from to have been as healthy as possible. It's best to make your broth from bones from pastured/grassfed cattle or poultry or wild caught fish.
The easiest way to do this is by using the leftover bones from that whole chicken or roast you are cooking. You can also check out a local butcher or ask around the local farmers to see if they have any.
Making Bone Broth
Bone broth is a super great thing to have around the house. It is used in so many recipes and has numerous health benefits. There are many ways to go about keeping a stock of bone broth around. I've seen some people just keep a chicken in the crock pot and they always have hot bone broth ready to go. You can also prepare a big pot and freeze it. My preferred method is preparing a pot of bone broth and canning it. Personally, I don't like waiting for it to thaw and don't consume enough to make it worth it to always have some in the crock pot.
I do this one of two ways.
The first is to prepare a big pot of bone broth and can it right after.
The other is to throw a chicken in the crock pot. Remove the broth twice daily and store in the fridge till I have 7 quarts I can can.
What you need
2 lbs bones from a healthy source
2 chicken feet (optional) for extra gelatin
1 onion
2 carrots
2 tbs apple cider vinegar
Seasonings. (garlic, salt, parsley, or other herbs) I usually don't season it until I'm ready to use it.
Bone Broth
2014-05-30 14:53:19
Ingredients
2 lbs bones from healthy source
2 chicken feet (optional)
1 Onion
2 Carrots
2 Tbs apple cider vinegar
Seasonings as desired (garlic, salt, parsley)
Instructions
Add bones to pot. (tip: roast bones for about 30 minutes first for a more flavorful broth) Pour filtered water over bones. Chop Carrots, Celery, and onion into large pieces and add to pot. Add apple cider vinegar. Let sit for 20-30 minutes. Place pot on stove top and bring to a boil. Let simmer for following times: Beef broth: 48 hrs. Chicken Broth: 24 hrs. Fish broth: 8 hrs.
During initial simmering remove any froth (impurities) that floats to the top with a spoon and discard. At the end of simmering add additional seasonings. Once simmering is done remove broth by running it through a strainer and storing in mason jars or a glass container.
When cool you can store in the fridge for up to 5 days, freeze, or can the bone broth
Can
Notes
When canning bone broth place in jars and leave 1 in. head space. Place jars in pressure canner with lids and rings on. Process pints for 20 minutes at 10 pounds of pressure and process quarts for 25 minutes at 10 pounds of pressure.
Adapted from Nourishing Traditions
Adapted from Nourishing Traditions
The Healthy Honey's https://thehealthyhoneys.com/
Like this post? Please share it by:
Pinning it here!