Candida overgrowth can cause a myriad of health issues. In this post I'll discuss the foods I used to kill candida and how to know if you have it.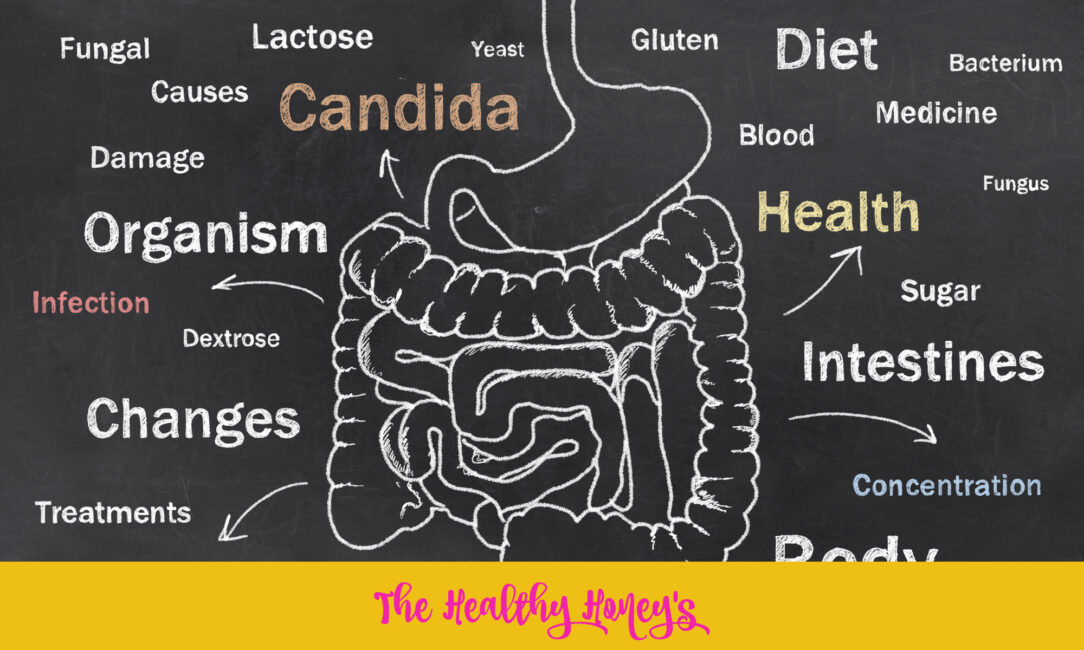 You didn't know I had a murderous nature did you?
Well, if you dealt with something that frequently makes you sick, thwarts your ability to be healthy, causes you to have infection after infection, and contributes to terrible pregnancies; then you wouldn't be able to resist killing Candida either.
And sometimes Candida can do other things too. It can be the root cause of nail fungus, athlete's foot, fatigue, headaches, poor memory, and weight gain.
What a little devious devil!
It simply had to DIE!!
So What's Candida?
Candida is a yeast, or fungus. It uses human bodies as a host. If you have a healthy body, other yeasts and good bacteria will keep Candida from over populating.
Things that contribute to candida overgrowth:
Hormonal birth-control
Antibiotics
Sugar consumption
Stress
Mercury fillings
Chlorine and fluoride
Diabetes
Want more details? Check out The Candida Diet.
How to Test for Candida Overgrowth
Most medical tests cost hundreds of dollars and require special labs to be run, so when I found this fun little trick I was thrilled. You can do the test at home, with no medical assistance. Here's how it works…
Wake up in the morning.
Stretch.
Maybe use the rest room.
Get a clear glass of water.
Set it on the counter.
Do not drink it.
Do not drink anything.
Do not eat anything.
Spit in the cup. Yes, I said spit.
Do not let your spouse drink it.
Watch the spit.
If it looks like this within 15 minutes then you most likely have candida.
When I first heard of the test I was anxious to try it. I had struggled so much with illness and infection. It was very frustrating because I had made so many diet changes and kept thinking I should be healthier. So I did the test. For me the finger-like projection were instant, and I wasn't the least bit surprised. I was immediately desperate to find a solution. Although I don't know for sure how long candida had been plaguing me, I would guess at least 9 years, and I had had enough. It was time to say good-bye and good riddance.
The Candida Diet
But it wasn't that easy at first. I searched around and all I could find was a very strict diet. It is called the candida diet. I think it would work, but I knew that I wouldn't be able to be diligent enough on it. The diet includes a period of time where you go without any breads containing yeast, and anything sweet including all fruit. I can give up a lot of things but not fruit. I was devastated. Fortunately, shortly after learning of the candida diet I stumbled upon a few other cures…
Foods that Kill Candida:
Diatomaceous Earth (DE)
This was the first little miracle I discovered. I saw clip talking about the benefits of DE on YouTube and immediately ordered some. I started adding it to juices and smoothies daily. And would use about 2 teaspoons, maybe a little more.
Diatomaceous earth is negatively charged, and bad bacteria and fungi like candida are positively charged. It is also very very sharp on a very small scale. So, as the DE works its way through your digestive system it attracts the candida and bad bacteria to it. Then because of it's sharpness it cuts up and kills the bacteria, allowing your body to rid of it.
Apple Cider Vinegar
This was the second trick. Apple cider vinegar has many benefits to health. It is considered a great tool for healing in all aspects of a persons health. Apple cider vinegar does two things to eliminate candida. First it encourages the growth of healthy bacteria, because it is loaded with natural enzymes. Once you have help growing good bacteria, you can crowd out the bad. Second, it balances the PH levels in the body.
The first time I tried to take a shot of ACV I thought I was going to die. Let's face it… It is pretty nasty. So I quickly learned a few tricks that help get it down. Don't try to drink it all at once. Instead, mix it into a tall glass of water, or juice, or lemonade and sip on it all day. It is better to spread the benefit out anyway. Make vinaigrette dressings for salads, add it your soups, or cook with it. It is ideal to get 1 -2 Tbs. per day, but it won't hurt to squeeze it into your lifestyle anyway you can think of.
Note: Make sure to use quality apple cider vinegar. Like many other products if you don't buy the raw, unpasteurized version you may be getting taken by a cheap imitation. It is common to see ACV on the label but the true contents are actual white vinegar with coloring. Sad and extremely annoying, but true.
Coconut Oil
Coconut oil contains both lauric acid and caprylic acid. Those acids make it antimicrobial, antifungal, and antiviral. Coconut oil is a great contributor to health and healing. Among many, many other uses, I've specifically used it to help overcome strep throat, heal rashes, treat athletes foot, cure toe nail fungus, and soothe sunburns. And of course, I used it when I needed to kill candida overgrowth. It is a constant in my family's diet and on our skin.
Raw Milk
Raw milk contains something called Lactoferrin. Which is the key in helping a person not have problems with candida.
"Lactoferrin works by stealing iron away from pathogens, and then it helps the" person "absorb all of the iron. It also stimulates the immune system. Lactoferrin is particularly useful in fighting things like tuberculosis and candida."
– Sally Fallon
Want more from Sally? Check out these YouTube clips.
Sally Fallon on raw milk part 1
Sally Fallon on raw milk part 2
I did not intentionally use raw milk to help with my candida overgrowth. At the time that I began working on killing the candida overgrowth I also started focusing on a better fertility diet. Because of that my raw milk consumption went up. Later on I learned about lactoferrin in raw milk and was thrilled that I had yet another hidden helper in candida's demise.
Note: If I haven't convinced you that raw milk is good for you, then using lactoferrin supplements will work.
So, that is how I sneakily murdered candida. I probably could have just used one of these fine tools, but I didn't want to wait and see. I wanted it DEAD. After a month my spit test no longer showed any signs of candida. YAY! Now I continue to use all of these tools, at least occasionally. Not to kill candida, but because they all have many benefits to my health, and to guarantee that candida never makes a revival.
Update
I've had people ask me more about my personal experiences with candida. Well, to begin with I didn't know I had it. I simply thought I was a very weak individual. I easily got yeast infections, the first year of marriage I had a yeast infection nearly every month. Then as the years went by I would still get them but only a few times a year. I got sick easily. If my kids got sick, so did I, every single time. And sometimes I was the first to get sick. I got a cold or flu nearly ever month. I struggled loosing weight, although a healthy weight may or may not be related it could have been. My pregnancies were terrible! This could be a factor because candida destroys the guts ability to absorb nutrients properly, or at all.
If you are someone who has had candida then maybe this seems like a drop in a bucket to you. And my heart goes out to those that have suffered much worse from candida than I have. In truth, I did have candida but I wouldn't have called it a severe case.
It has been nearly two years since I started experimenting with how to get rid of my candida problem. And finally had a successfully candida free spit test. I have had no yeast infections. And I've gotten a cold twice.. I feel better. My mind has a clarity where previously there was a slight fog. And I don't get sick! I did the spit test again the other day and it is still clear.
Update 2
As this post gets more and more comments it becomes more and more apparent that this is not the solution for everyone (after all, every person is different), and that there are a LOT of people suffering, and suffering far worse than I was.
That being said, I've been doing some digging. I don't want to turn anyone away discouraged, overwhelmed, or still suffering from candida. I've sorted through lots of programs, books, and diets that supposedly cure candida. For the most part I found a lot of impractical solutions. Programs that put you on extremely restrictive and unreasonable diets, and books that recommend things that don't even make sense to me.
Then I stumbled upon the work of Linda Allen. She is a medical researcher, nutritionist, health consultant and former candida sufferer. She devoted her life's work to healing her own body and now helps thousands of people by sharing what she learned along the way. I highly recommend you check out what she has to offer. Best of luck to all of you!
Other posts you may like:
Like this post? Please share it by:
Pinning it here!