Psst… I have a secret…
Actually, I have two… The first, which maybe I have alluded to a little in the past, is about my weight. I'm a healthy living blogger who is, well, chubby. Not only that, but managing a healthy weight has been one of the biggest challenges of my entire life. And it started in 8th grade! There is a lot we could say about the psychological part that has played in my battle. And we could most certainly include issues with self-esteem, and disordered eating. For a long time I was either proudly "in control" of what I ate, which was generally not enough and didn't include listening to my hunger cues. Or I was trying to get back in control and my mouth was sabotaging me by eating the entire chocolate cake…
If I felt alone in these kinds of struggles I wouldn't share. If I felt that no one could benefit from me sharing I wouldn't share. And even though I am terrified of losing your respect as someone you turn to for health information, I'm sharing anyway, for those that need it.
I've found lots of things over the years that have reshaped how I think and feel about food. There have been a lot of people who I'm very grateful for that have been involved in that journey. As far as the psychological aspect goes I can give a big thank you to the book "Intuitive Eating" and to my friend Isabel Foxen Duke, who teaches intuitive eating and overcoming food issues in her program "Stop Fighting Food". She has recently released three videos from her program for a short time, and if what I've shared speaks to you, then you need to sign up to receive those right now. They will only be available for a few more days. Aside from intuitive eating, I've also learned a lot about how to heal infection holistically, how to nourish the body so it feels good, and how to avoid illness through diet, and other natural resources…
However, I have never been able to lose weight and do it in a healthy way. I also suck at consistent exercise… Don't get me wrong, I enjoy exercise. I also think exercise plays as big a role in how we how feel, as what we eat does. And although my relationship with food has improved dramatically, I know my overall health could still improve with an appropriate fitness training routine. To spite my knowledge about fitness and food I need help making it happen, and being successful at it. And although I generally like to figure out how to do things on my own, it is time to get professional help. There are people out there that simply know way… way more than I do about how the body functions, how muscle is developed and maintained, and how to lose and manage weight in a healthy fashion.
I'd been contemplating hiring a health coach for a while. I've been looking around and thinking about it, and making a list of people who I felt have good programs and would fit my requirements. I wanted to find someone who has an open mind about food. Someone that doesn't demonize grain or dairy. Someone that could truly develop a custom program. Most trainers build a basic program, that only adjusts with weight, age, and gender. I was searching for something for better than that. I needed to find a couch that could take my weekly feedback and adjust what I'm doing based upon my results, and not only that I was looking for someone who could look at my history, my genetics, and my current lifestyle and tell me where my current limitations are.
That is when I found Scott, of Scott Abel Fitness. Scott does all of that, and probably much more. He understands how to stimulate the body to lose fat and develop muscle. He understands metabolism, his book on the subject is fantastic by the way. So I started getting excited…
When…
My husband and I decided to have another baby. So, then my thoughts lingered somewhere between desperation and defeat. I felt like I was probably stuck with the extra pounds and the upcoming muscle depletion that tends to come with pregnancy. So, part of me was ready to hire a maid, take a nap, and hope like crazy that it was easier to lose the weight and get in shape after this baby… Afterall, who hires a coach and gets in shape while pregnant… The other part of me kept saying, "No way honey! You have made so many improvements to your health, especially during pregnancy. And you don't have to fail here."
So here I sit now, listening to both voices. I'm going to take lots of naps, and hire a maid, but I'm also going to hire that health coach, and hopefully redefine what is possible during pregnancy. There is so much judgement of what women do during pregnancy, and I'd be lying if I said that sharing this journey with all of you doesn't make me a bit nervous. However, I know that pregnancy, for me, could improve. Any exercise during pregnancy has ranged from impossible, to forbidden by my OB, to I'm way to exhausted and if I break a sweat I'll vomit. I'm hoping I can get a handle on that this time.
Although after my second pregnancy I lost weight quickly, I went to the gym regularly, and I looked and felt great. I've really struggled to make that happen since my third pregnancy. And although I've figured out how to avoid morning sickness, and overcome GBS during pregnancy, I have failed epically to gain a normal amount of weight during pregnancy. I gained 60 with my first, 50 with my second, and 75 with my third. To me, this is a sign that I still have work to do to make pregnancy healthier, and more comfortable.
Even if all Scott does for me is help me keep that weight gain within normal ranges, I'll consider that successful. However, from what I've learned about his programs I think he is capable of helping me do far more than that. And working with women during pregnancy isn't a new thing for him either. Here is a video of one of his clients who is 8 months pregnant.
What Scott asks for to get you started
Give Scott a breakdown of your current training regimen and how long you have been following it.
Your vital stats: height, age, weight.
A brief breakdown of your lifestyle and lifestyle stressors.
A detailed 3 day diet – current history.
Provide information on how many days per week you can realistically workout and for how many hours per training day.
A breakdown of your training goals: physique transformation, get fit, feel more energetic, gain muscle, lose fat, get strong etc…
Pictures of yourself from front side and back.
List any injuries or medical conditions and medications which may affect training protocol.
My Answers
Current Training
I've worked hard to be more active this year, however, I would in no way call it training. I've bounced from yoga, to zumba, to HIIT workouts. I've walked, tried to run, and gone on lots of hikes. I'm consistent for only a week or two at a time, followed by busy weeks where exercise is limited and irregular, and then back to something different to keep my interest. It is sad, and ridiculous but also my current reality. I have done very little in the last month unless gardening and walking count (pregnancy fatigue and canning have consumed my existence).
Stats
I currently weigh 172 lbs. I'm 5'5″, and 31 years old.
Lifestyle
I'm a mom of three, ages 9, 5, and 2. I homeschool, blog, and homestead. With my parents and siblings we manage a 1/2 acre garden, about 100 chickens, and a dairy cow. Spring means we are busy planting, summer means we are busy weeding, and fall means we are super busy harvesting and preserving. Fall also means wrestling children into their seats to teach them to read and write and whatever else I feel inspired to shove into their tiny brains.
I'm currently weaning my 2 year old. So hopefully for only a few more days that means low sleep. I'm also 8 weeks pregnant.
My husband is a commercial airline pilot. So it is very difficult to find routine in our lives. He is either here, or gone. When he is home it is like the weekend, we work on projects, we have family time and play. When he is gone, I have to play catch up for the four days of play and we clean, and work, and do school.
Oh, and my house is currently for sale. Which personally, totally stresses my eyeballs out.
Diet
Breakfast: Beet root smoothie
Lunch: baked zucchini with bloomin' onion sauce
Snack: popcorn with butter and salt
(then I vomited)
Dinner: loaded baked potatoes and bbq ribs
Breakfast: hash browns, 1 fried egg, orange Julius
Lunch: Peanut butter and honey sandwich, a plum, and dried apples
Snack: chips and sliced cheddar cheese
Dinner: Homemade hamburgers, pickles, tomato slices, watermelon, and chips with homemade queso
Breakfast: Red velvet smoothie, 3 pancakes with real maple syrup
lunch: veggie beef soup, slice of bread with butter
Dinner: 2 slices of homemade pizza, peas, and greek salad
snack: dried plums
What Could Training Look Like?
I don't even know how to answer this question. Pregnancy can be very volatile for me. One day I feel great and can go fora two-mile hike, the next I can't get off of the couch. However, if things continue the way they are now, and I am careful with what I eat so I don't get sick, then I think I could do 4-5 days per week, and 30-45 minutes each day, depending on intensity. Sometimes exercise also makes me sick, but sometimes the activity makes me feel better. Oh and I'm generally past the bulk of the queasiness by week 16.
Training Goals
Pregnancy aside, since this question is also hard to answer…As far as physique goes, I would love to gain a butt. I don't need a huge round bubble, but I'd like to be able to define it as something other than, well, really flat. I'd also like to lose belly fat, and to lose fat in general and gain strength and muscle. I'm not interested in a female body builder physique, but mild definition overall would be awesome.
For pregnancy: I'm hoping that by having a consistent exercise routine that I will have more energy throughout pregnancy. I would also love to gain muscle, instead of losing it this time around. And ultimately, I would like to get any weight gain within health ranges during the pregnancy, and lose fat if possible. I don't feel like I need to add a pregnancy cushion… I have more than enough already. Right now, I mostly want to experience a healthy, and fit pregnancy, without excessive weight gain, and with some muscle-building. If you feel I can accomplish more I am all for it!
Pictures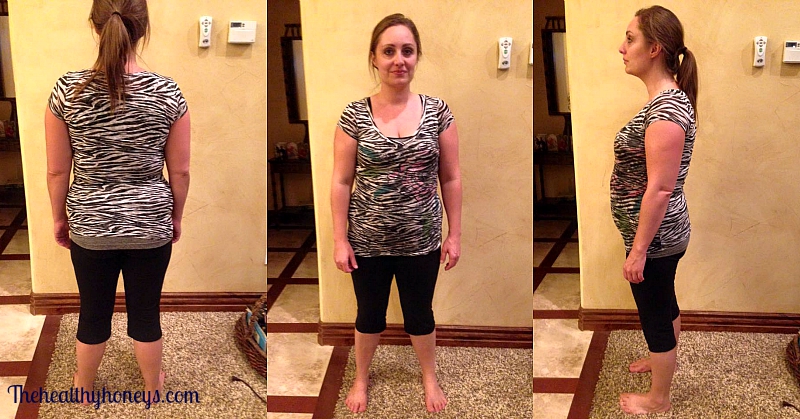 Injuries, Medical Conditions, Medications
I have diastisis recti, this is a problem when I'm not pregnant, and obviously something that is extenuated during pregnancy (I seriously can not roll over unassisted by the end of pregnancy). I also have problems squatting with a bar. I tweaked something in my shoulder years back and although massage has fixed it for the most part, the bar brings it back with a vengeance. I have also struggled lately with running. I get shin splints nearly every time. I've tried several things to fix it and nothing has worked yet.
I have very difficult pregnancies, although I have learned how to make them less so. But certain things are required, without these things I suffer from severe morning sickness and insomnia at night, and fatigue the rest of the time. So, I wouldn't call these medications, but they are factors for keeping me sain, and well:
I take magnesium, a probiotic, and a prenatal supplement daily. I also frequently take ACV. My diet has to be void of refined sugars, soybean oil, canola oil, and white bread (all grains are soaked, soured or sprouted). I eat a strictly real food diet during pregnancy. I have also found that eggs, potatoes, meat, and butter are my best friends. Red meat helps me keep my iron up, and natural saturated fats help me keep my food down. Sadly, the milder the food the better. Oh, and it seems every pregnancy comes with a few foods that I an't get enough of. This time peas are awesome!
For those of you that like to see things in numbers I'm including measurements for you…
Measurements:
Weight: 172 lbs.
Largest part of waist: 43
Smallest part of waist: 33 3/4
Hips: 40
Thigh: 23 1/2
Under breast: 35
Bra size: 36 D
Arm: 13
Neck: 13
Calf: 14 1/2
Wanna join me?
Let's face it, getting in shape and staying that way isn't easy. Especially for women that are working on building their families, as their bodies go through rapid changes, and their lives are filled with the stress of low sleep, and toddlers that like to color on walls.
So, if you need the help too, if you want to take reevaluate your life, and start taking a little better care of yourself, then join me. Check out what Scott has to offer. He has several programs, lots of books and videos, and one-on-coaching.
Like this post? Please share it by:
Pinning it here!