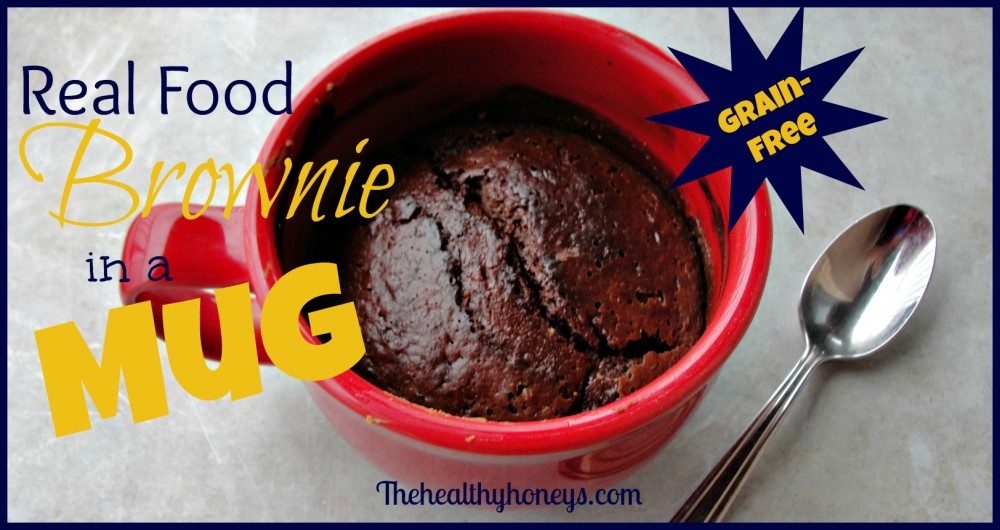 I have people ask me all the time what I do for desserts, and sweets if I don't eat sugar. I have certainly had no problem replacing sugar with natural sweeteners in all kinds of recipes! Or creating my own delicacies. And here is yet another one, the Real food brownie in a mug. As if that wasn't already too good to be true, it is also grain-free. You can indulge guilt-free, without worrying about sugar, or grains.
Most of my favorite treats are chocolate, and the best ones are like this one… quick, simple, and made with real food. This brownie makes for a great mid-day snack when the kids aren't looking (there is just one after all). Or of course it is great to satisfy that sweet tooth before bed.
Now, if only I had some ice cream…
Real Food Brownie in a Mug, Grain-free
2014-02-27 18:14:16
Ingredients
1 Egg
1 Tbs. Cocoa
2 Tbs. Peanut or almond butter (organic, unsweetened)
1 Tbs. Coconut oil (like this)
1 Tbs. Milk
1 tsp. vanilla
1/2 tsp. Baking powder
3 Tbs. Maple syrup (like this)
Instructions
Preheat oven to 350 degrees. Add all ingredients to mug. Stir thouroughly. Bake in toaster oven, or oven for 12-15 minutes.
Notes
Top with Chocolate Drizzle (recipe here), ice cream, or just eat it as is!
The Healthy Honey's https://thehealthyhoneys.com/
Like this post? Please share it by:
Pinning it here!