Group B Strep has been one of my biggest frustrations. The medical community treats it as if it is no big deal. Typically, it doesn't cause an adult any detriment, and if you are pregnant and test positive for GBS they simply pump you full of antibiotics through an IV when you deliver your baby. No problem….
Wait? What if I don't want antibiotics?
Now folks, I believe antibiotics can be very useful. However, I'm not partial to using them for prevention. I'd prefer to keep my gut flora as strong as possible and also allow my baby to be born with good flora.
With both of my daughters I knew no different. I tested positive both times. It appeared to me that Group B Strep was just something I had. And there wasn't really anything to be done about it. Then my world changed. I learned that maybe there could be another option. I killed the Candida problem that had plagued me for years. I wanted so badly to be able to build good gut flora and keep it gone. Which also means avoiding antibiotics. Unfortunately, antibiotics don't just kill bad bacteria, they kill the beneficial bacteria that our bodies need to function as well.
I became pregnant with my third child and just crossed my fingers that there would be no sign of Group B Strep. I hoped that because the Candida was gone that I had also eliminated the GBS in that same process.
To my misfortune, around 34 weeks, I received a phone call from my doctor's office. The nurse told me that my urine sample had tested positive for Group B Strep, and they wanted to call in some antibiotics for me to take. I was also told that they wouldn't need to test me at 38 weeks. If they find it in your urine you always test positive in your blood. All I could think was, "Seriously?! I don't want this problem. Now what?"
First, I made the choice to skip out on the antibiotics. I did tell my doctor and she said it was fine because I wasn't noticing any symptoms from the Group B Strep.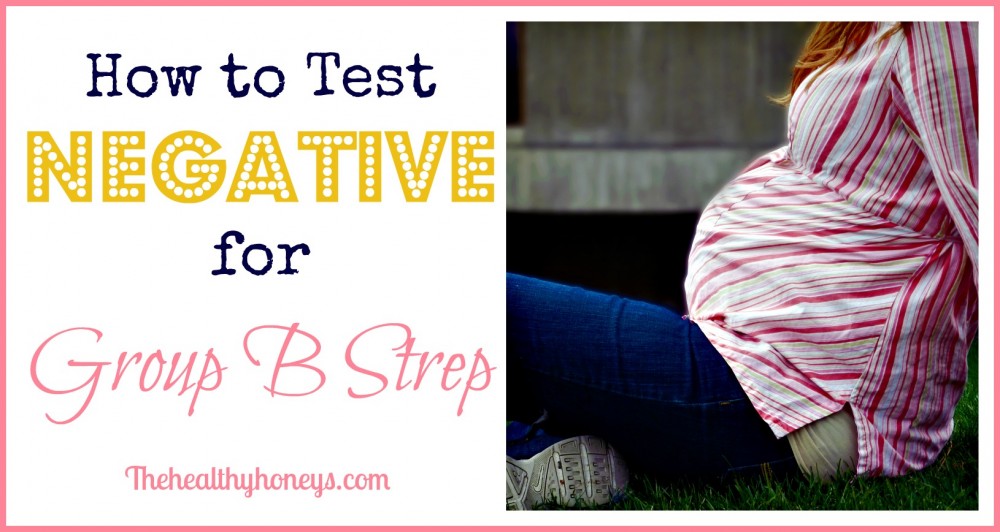 Then I set up a regimen to eliminate Group B Strep, making it so I would test negative for GBS. The following information outlines the routine.
Everyday I took the following:
Apple Cider Vinegar
Some days I would just put 1 -2 Tbs. of apple cider vinegar in a shot glass and get it over with. Other days I add it to a full glass of water and mix in some raw honey and apple juice. It goes down pretty easy that way. I use this kind.
Why apple cider vinegar?
ACV helps the body maintain balance, particularly pH balance. When you have a balanced pH you are less likely to encounter infection. Apple cider vinegar is also great for detoxification of the body.
Cranberry Juice
Generally, I add the cranberry juice to a glass of water. I never measure but it is about 2 Tbs. (I buy this kind). I make sure to have at least one glass per day.
Why Cranberry?
Cranberry is your key to urinary tract health. Since I knew that the Group B Strep had populated my urinary tract and was in my urine, I knew that cranberry juice would help cleanse my system.
Raw garlic and garlic supplements
I took 1 garlic supplements each morning and 1 more at night. If I could add garlic to any of my meals I would add it, but would make sure to either add it to the meal when cooking was complete. I used this one.
You can also use a little trick that is more commonly used for yeast infections. I wrote about it here.
Why garlic?
Garlic is the miracle healing herb. It kills bacteria, viruses, fungus, and yeast. In this case we just need it for the bacteria but hey if it kills a few other bad guys along the way that's great!
Vitamin C
You can take one 1000 mg vitamin C supplement. Personally, I make my own by grating, and drying out lemon or orange peel, and then adding it to juices or smoothies.
Why Vitamin C?
It is commonly known that vitamin C boosts immune function. Find vitamin C here.
Fermented Cod Liver Oil
I took the recommended dose of fermented cod liver oil once a day. Find it here.
Why Fermented Cod Liver Oil?
FCLO contains vitamins A, D, and K. Those vitamins also help boost immune function.
Prenatal Supplement
I continued to take my prenatal vitamins regularly. I use this brand.
Diatomaceous Earth (Food Grade)
I took 1-2 Tbs. of food grade diatomaceous earth (like this) in a smoothie or juice every day. I also eat a Brazil nut or take a selenium supplement when I take DE. I do this because diatomaceous earth can be high in heavy metals and the selenium helps to keep that neutralized.
Why Diatomaceous Earth?
Bad bacteria is negatively charged, and DE is positively charged. So, diatomaceous earth attracts bad bacteria to it and then because it is super abrasive to things like bacteria and bugs it scrapes it up and kills it. You can then pass the bacteria and begin to heal your body from it.
I share more about diatomaceous earth here.
Probiotic Supplement
I took 2 probiotics morning and night every day. Find the kind I like here.
Why Probiotics?
Probiotics help eliminate GBS by replacing bad back bacteria with good bacteria.
Yogurt
I would either have a bowl of yogurt or a smoothie almost every day. I also make my own yogurt. Here is how to do it.
Why Yogurt?
Yogurt is a probiotic powerhouse. So, by eating yogurt you are crowding out the bad bacteria with the good. Perhaps the yogurt isn't necessary, but it is just another way to push the probiotics into your gut and to crowd out the group B strep.
If you aren't use to taking any of these types of supplements you may have a little trouble with loose bowel movements.
Group B Strep really can be overcome. You don't have to succumb to an IV during labor, and you don't have to worry about the threat of any problems that GBS could cause to your infant. Is this going to be one hundred percent fool-proof? Perhaps not, but it certainly worked for me.
Like this post? Please share it by:
Pinning it here!