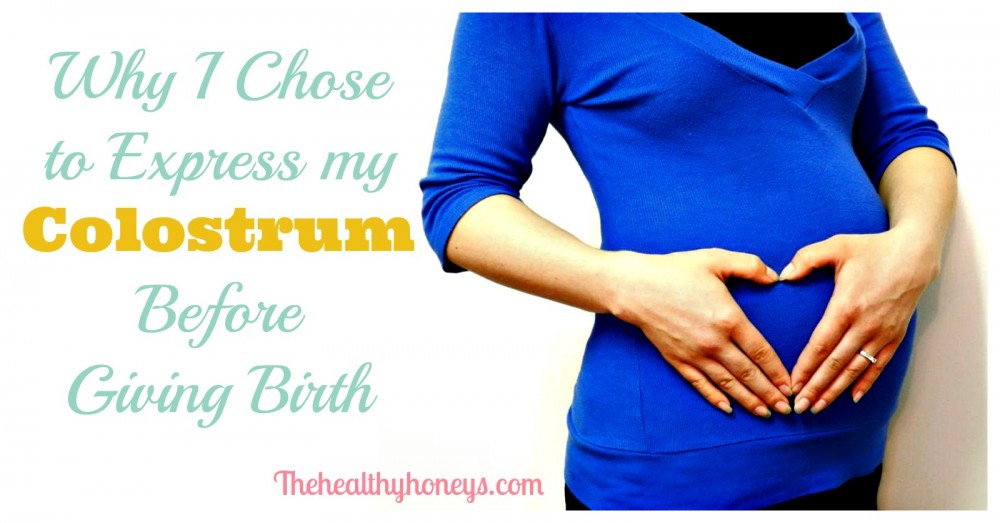 So who here has heard of antenatal expression of colostrum before?
….
That is what I thought. Very few. Which means it must be a little weird… But I'm doing it anyway.
So what is antenatal expression anyway?
Antenatal expression of colostrum is the practice of expressing your breast milk while pregnant.
Yep! I said it. I'm pumping while pregnant. As if my boobs won't get enough of that over the next year or two, I thought I'd get a head start.
Why would anyone want to do it?
While I think for most women, expressing colostrum is a bit excessive, it is exceptionally helpful for others.
With my first 2 babies I had a very difficult time getting my milk to come in fast enough to keep my baby nourished. (Why this is, I'm still not entirely sure but it could have been do to poor diet, or hormonal issues) I was beyond exhausted and my babies were always hungry… So hungry that they would nurse all night and sleep very very little. Once I finally resorted to giving them a bottle they would fall asleep and we could both get some much needed rest.
This time I don't want to have the fall back of formula. Which I could also talk in length about, and I'm sure one day I will, but until then let's just say that formula often has ingredients that contain GMO's. Formula also changes a babies gut flora, and it isn't what mother nature intended for babies to use for nourishment.
And just to note, I have nothing against moms who do use it. I've been there and sometimes there is just no way around it.
In my search for herbs and foods that promote good milk supply I also found this little technique. Basically you start expressing and freezing your colostrum somewhere around 37 weeks. You express colostrum 3 times per day. This allows you to save up extra colostrum in case your baby needs supplementation, and it also helps prepare your body to be nursing.
Ultimately I'm choosing this due to having a low milk supply with past babies. But there are other reasons you may want to consider expressing your colostrum, which include having:
Polycystic Ovarian Disease,
Breast Hypoplasia,
had a previous breast surgery,
Multiple Sclerosis,
experienced previous low milk supply,
had diabetes during pregnancy.
Also if the infant:
has a cleft lip and/or palate identified during pregnancy
has cardiac complications, or other congenital conditions like Down syndrome,
is diagnosed with intrauterine growth restriction,
is born prematurely.
Is it safe?
There isn't a lot of research on the topic to be found. Most likely because supplementing with formula is so common and widely acceptable. The research is also controversial; researchers can't agree upon whether it is safe or not.
Here is what I have found…
Nipple stimulation can help bring on labor by releasing oxytocin into the body. Therefore, it could induce labor. I wouldn't play around with this too early in your pregnancy.
On the flip side orgasm releases more oxytocin than breast stimulation and is considered perfectly safe for most pregnancies. Another thing to consider is how common tandem nursing is throughout the world. It is not particularly common in America, but worldwide women continue to nurse their 2 or 3 year olds' throughout pregnancy and then along side the new infant.
As far as safety goes it is really a personal decision. If expressing colostrum gives you contractions it probably should be reconsidered. And it would be wise to discuss it with you health care professional ahead of time.
If all is well and it works for you then the pleasure of having a stash of that liquid gold we call colostrum is yours to spoil your baby with and to put your mind at ease when you aren't the momma with the sore boobs because of too much milk.
How do you express your colostrum?
I am using a simple breast pump, but you can also do it by hand. This link can show you how. I should warn you that it is graphic.
Like this Post? Please share it by:
Pinning it here!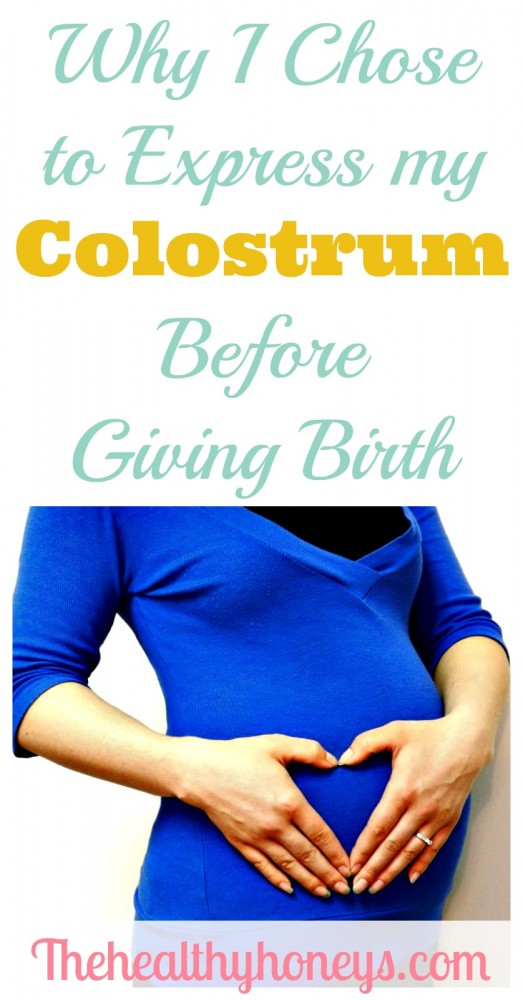 Sources:Breastfeeding USA, Mater Mother's Hospital