I can't tell you how many times I made this healthy rhubarb crisp this spring. It was a frequent companion with our eggs for breakfast, or as a dessert many evenings. I tried a couple variations as well. My personal favorite combination is strawberry rhubarb, but if you prefer a more tart flavor raspberries do the trick. It works well with wheat flour, but also works great with almond flour. I love how this crisp is quick and easy to toss together, and how it keeps well in the fridge. This rhubarb crisp is a great recipe to keep on hand for those late spring and early summer days. I love how it adds variety to the palate after a long winter.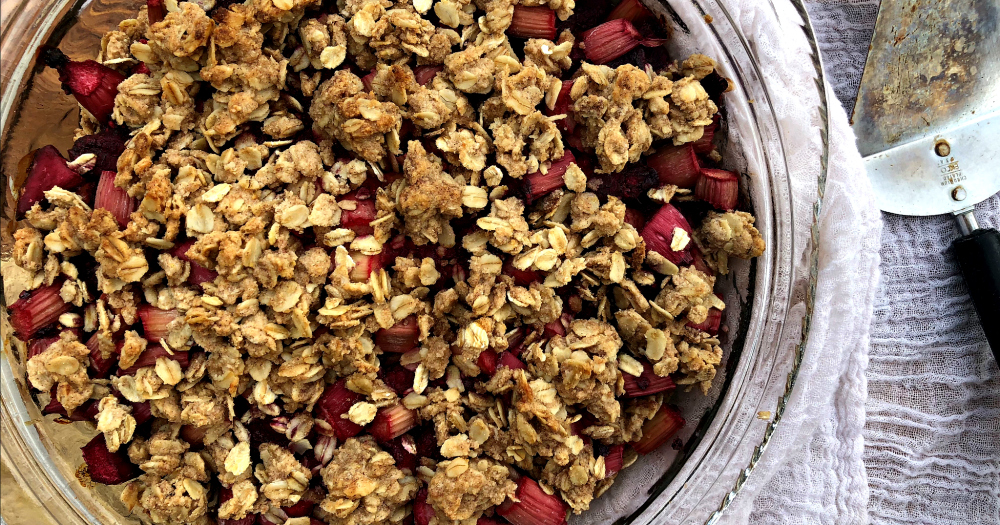 Rhubarb is generally easy to find at a farmer's market, but I grow my own. I love how easy rhubarb is to grow. Rhubarb needs very little water and can easily spread. I think the plant is pretty too. When preparing rhubarb for use, chop off the green leafy portion. The remaining stock will look a lot like celery. Rinse it, and simply dice it up!
Other recipes you might like:
Like this post? Please share it by:
Pinning it here!