When I first started transitioning to a healthier lifestyle the first dietary change I made for my family was to ditch cereal. To replace that quick and easy breakfast I started making homemade granola. My general go-to granola recipe is this Honey Maple Granola. It is simple to make and easy to adapt for different flavors.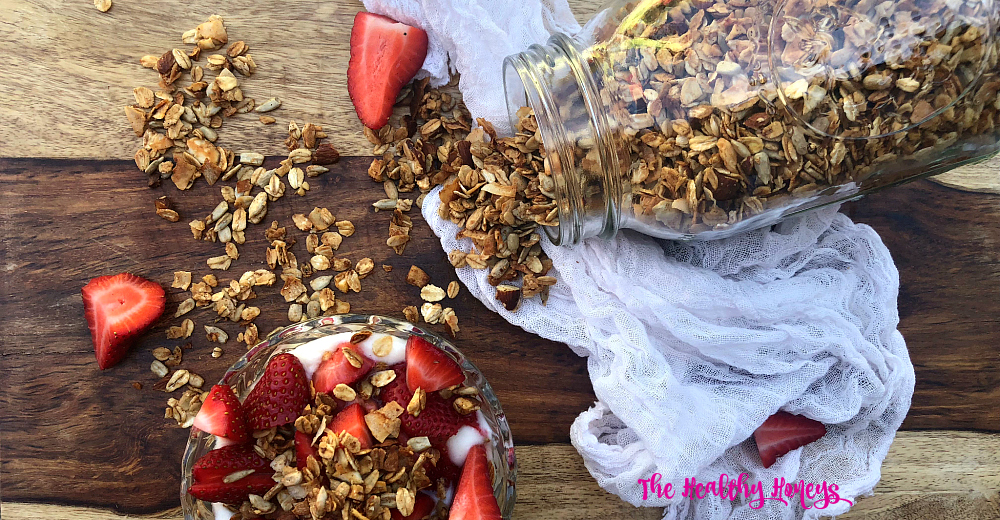 My Rules for Cereal
Whole Grain
Cereal should be 100% whole grain. White flour is void of nutrients and should be avoided as much as possible.
Healthy Sweetener
Sweetener should be minimal and as unprocessed as possible. I prefer to stick with honey and real maple syrup. I also occasionally use coconut palm sugar and sucanat. When making granola adding in dehydrated fruit can help sweeten to keep the added sweetener low.
Healthy Fats
Fats in cereal should include coconut oil, olive oil, or butter. Avoid canola oil, margarine, shortening, and other similar fats.
Nothing Artificial
Cereals should not include artificial ingredients. This includes anything you don't recognize as a food item, and artificial colors or flavors.
Honey Maple Granola
2018-04-24 22:16:20
Ingredients
2 Tbs. Olive oil
1 Tbs. Vanilla
3 Tbs. Maple syrup
3 Tbs. Honey
1 tsp. Cinnamon
dash of salt
3 C. Oats
1 C. Chopped walnuts
Instructions
Mix all liquid ingredients in medium bowl.
Stir in cinnamon, salt, oats, and walnuts.
Using fork, stir vigorously until evenly coated.
Pour onto cookie sheet and spread evenly.
Place in oven and set to 300 degrees. (No need to preheat)
Stir every 10 minutes. Cook for 22-25 minutes, until golden brown.
The Healthy Honey's https://thehealthyhoneys.com/
Honey Maple Granola Variations and Add-in Options
Here is a quick list of add-ins to vary the flavor:
coconut flakes
raisins
pumpkin seeds
sunflower seeds
almonds
cashews
nutmeg
dehydrated apples, strawberries, raspberries, blueberries, or bananas
Like this post? Please share it by:
Pinning it here!