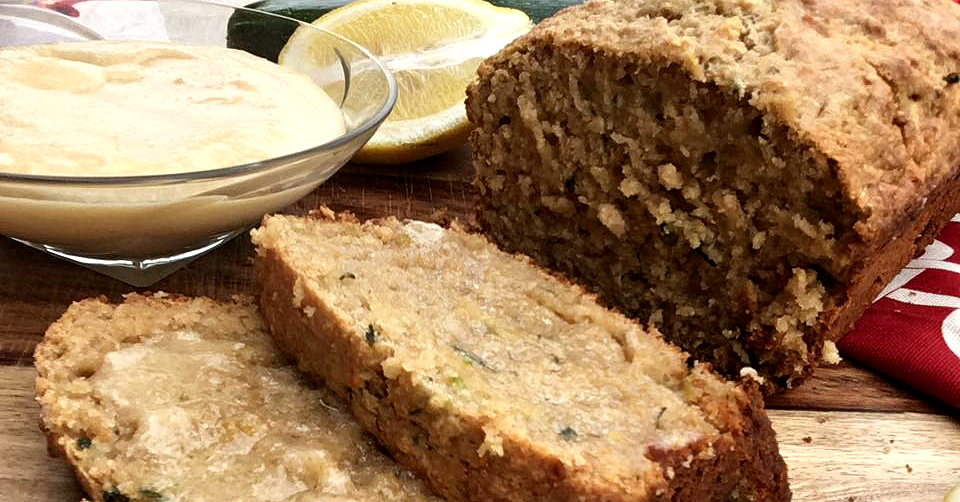 This lemon zucchini bread is a great way to squeeze a few veggies into anyone's diet. It's whole wheat, real food, and delicious. Best part… my kids eat it too! When my oldest was young I thought I had the whole kids eating veggies thing down. My husband and I had her convinced that veggies would make her strong and smart and she gobbled most of her greens without a problem.
Then along came child number two, with an entirely different idea about life and food. She couldn't care less about what veggies might do for her, and all she cares about is the sweet treat that she is hoping will come her way.
Yes, I know. It's a problem, and I'm working on it.
So, until she is completely convinced that veggies are the way to go, I wil continue to do what I can to get them in her little body. Some days that means shoving fistfuls of spinach into smoothies and other days it means lemon zucchini bread.
Oh and I'm totally up for trying new ways of getting more greens. If you have any clever ideas or awesome recipes I'd love to hear about it in the comments below. Thanks.
Enjoy!
Lemon Zucchini Bread
2017-08-30 17:42:59
Bread
2 1/2 C. Wheat flour
2 tsp. Baking powder
1/2 tsp. Sea salt
2 Eggs
1/4 C. Coconut oil (like this)
1/4 C. Plain yogurt
2/3 C. Honey or maple syrup (like this)
1/2 C. Buttermilk
2 Tbs. Lemon juice
Zest from 1 lemon
1 1/2 C. Zucchini (grated)
Lemon Honey Butter
1/2 C. Butter
4 Tbs. Raw honey
2 Tbs. Lemon juice
1/8 tsp. Sea salt
Instructions
In large bowl, whisk together flour, sweetener, baking powder, and salt; add lemon zest then set aside.
In medium bowl or large measuring cup, lightly beat 2 eggs, then add oil, yogurt, buttermilk, lemon juice and blend everything well. Pour into the dry ingredients and blend together. Fold in zucchini and stir until evenly distributed in mixture.
Pour batter into a greased 9×5″ loaf pan and bake at 350 degrees for 45-55 minutes, or until toothpick inserted in center comes out clean. Cool in pan 10 minutes, then remove to a wire rack and cool completely. While loaf is cooling, combine ingredients for the lemon honey butter.
Slice bread and add generous amounts of honey butter.
Notes
No buttermilk? Use milk and 1/2 tsp apple cider vinegar instead.
The Healthy Honey's https://thehealthyhoneys.com/
Like this post? Please share it by:
Pinning it here!