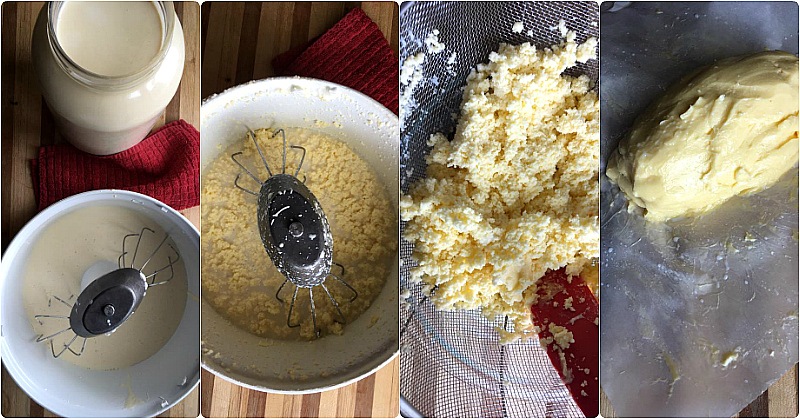 We've had our own dairy cow for a few years now. Getting a cow is no small decision. It takes a lot of commitment and a lot of effort when it comes to using up the milk she supplies. We've had to get a bit creative, and learn a lot about how to make all kinds of dairy products. We love this cheese making book. Many of the recipes we use now come from it or have been adapted from it.
Today though, we are going to share with you one of the simplest ways to use the cream…
How to Make Cultured Butter
Cultured butter is made with live good bacteria that occurs naturally in raw milk. Cultured butter is best when made with raw cream. The necessary bacteria for making cultured butter is killed in pasteurized dairy. We want a living cream for this. However, since raw cream is hard to come by, adding a little milk kefir to your cream is a good way to bring back some live cultures so that it can culture. If using raw cream place it in a jar and cover with cheesecloth. If using pasteurized cream and kefir, mix 12 parts cream with one part kefir then place in jar and cover with cheese cloth. Sit it on the counter and wait….
The longer you wait the more of a cultured flavor or tang your butter will have. If you aren't accustomed to eating cultured butter, I'd recommend working up to a longer culturing time and start with one day. However, a two to three day sit time makes a good general rule of thumb for acquiring a nice cultured flavor.
After you let your cream sit out for the desired amount of time cool it in the refrigerator, and then it is time to churn it into butter. I use my Bosch mixer for this. The time frame for it to turn to butter varies so it is best to just keep an eye on it as it mixes. You will know you have butter when it goes from runny to whipped cream consistency and then finally separates into a thin liquid (butter milk) and chunks of butter.
You can also use a hand mixer, or shake a jar repeatedly until you get butter. Kids are great butter churners when using a jar to get the job done, but expect it take around 30 minutes with the jar method.
After your butter and buttermilk separate you will strain off the buttermilk. Keep this for buttermilk pancakes, buttermilk ranch dressing, or buttermilk biscuits. Place the butter in ice-cold water and massage it with your hands as you rinse the butter. The goal here is to get any remaining buttermilk out of the butter. When the water runs clear it is rinsed. Massage the butter, squeezing out the water. Add salt if desired. Place in a butter mold or wrap in wax paper.
This video also shows you how to make cultured butter…
Like this post? Please share it by…
Pinning it here!