This chocolate and sea salt granola is everything you are looking for in a healthy cereal: plenty of lasting crunch, and big clusters, paired with the perfect amount of sweetness will have your mouth singing good morning. This granola is also egg-free, dairy-free, and vegan. It makes for a perfect quick breakfast, snack, or dessert.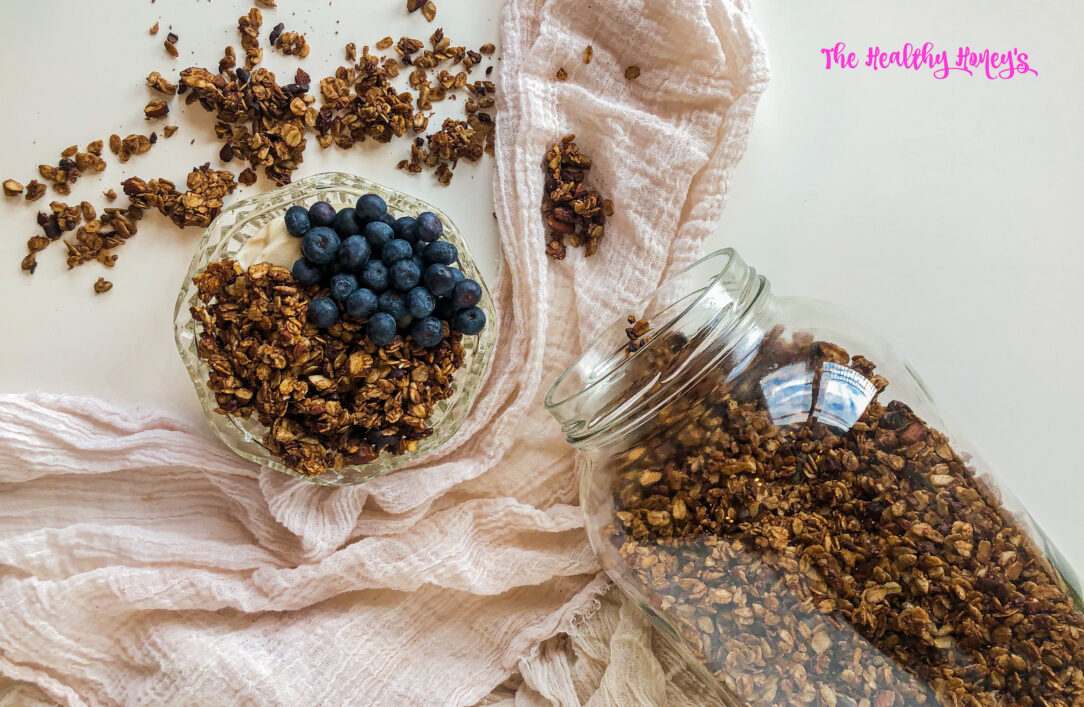 Is granola easy to make?
Why yes, yes it is. Actually, I've never met a granola that was difficult. The really cool thing about granola is that you can even easily adapt it without going array. This granola is super easy to toss together. Then you can Netflix and chill while you wait for it to be ready. The waiting is the hardest part.
Granola is so simple that I rarely buy it from the store, and it is absolutely worth the delicious aroma it creates while cooking. The smell of chocolate and sweetness that comes from the oven is better than any scented candle.
My family goes through enough of this granola that I often double the batch. I just split the granola onto two baking sheets before baking.
This easy chocolate granola recipe will be your new staple.
I don't think I've ever made a granola that was as big of a hit as this granola. There is just something about chocolate that makes everything better.
I use cacao in all my chocolate recipes. Cacao is basically minimally processed chocolate. It preserves more nutrients and is therefore healthier than cocoa. Here is everything you need to know about the difference.
This granola can also be made with butter instead of coconut oil, and honey instead of maple syrup. Either way works great and tastes delicious. Actually, the cool thing about granola is that it is super adaptable. Don't like almonds? Try a different nut. Ran out of coconut? Sub something else or omit it. Want nut free granola? Add more cacao nibs or sunflower seeds. Anything goes with granola, but I promise if you follow this recipe, as is, you will not be disappointed.
We use coconut oil in this recipe to help create lasting clusters. We all want nice clusters right? The other trick for good clusters is to leave the granola in the pan until it is completely cooled. Then break apart gently and store in an air tight container.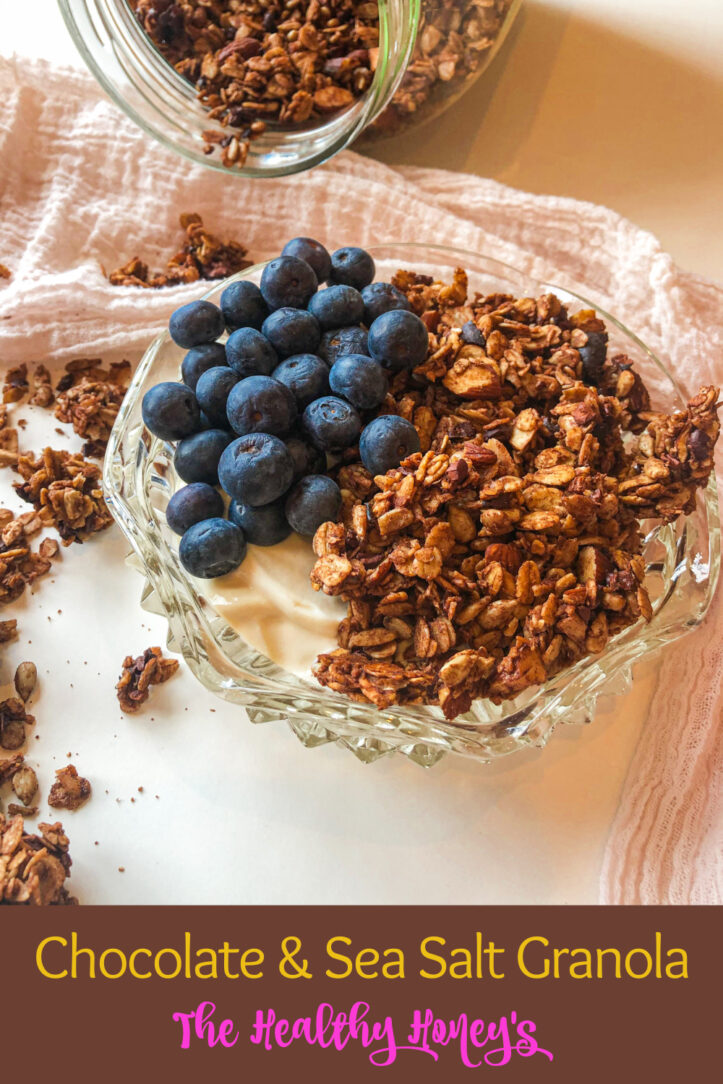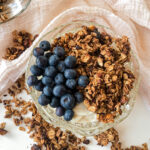 Print Recipe
Chocolate and Sea Salt Granola (Vegan + Gluten-free)
This Chocolate and Sea Salt Granola is the perfect quick breakfast. Loaded with crunch and chocolate you can't go wrong. Plus it is vegan and gluten-free to fit whatever kind of diet you need.
Ingredients
3 1/2

cup

oats

gluten-free

1

cup

almonds

raw, chopped

1

cup

cacao nibs

1

cup

coconut

shredded, unsweetened

1

cup

sunflower seeds

4

Tbsp

cacao powder

1/2

cup

coconut oil

1/2

cup

maple syrup

2

tsp

vanilla extract

1/2

tsp

sea salt
Instructions
Preheat oven to 250 degrees. Line a rectangle baking sheet with parchment paper.

Mix the dry oats, almonds, cacao nibs, coconut, sunflower seeds, and cacao powder together in a large mixing bowl.

Heat the coconut oil and maple syrup in a small saucepan over low heat. Once the oil is melted stir in the vanilla and salt.

Pour the liquids over the dry ingredients. Stir together with a rubber spatula until evenly coated.

Spread the mixture onto prepared pan in one even layer. Bake for 75 minutes.

Remove from oven and let cool. It will become crisp as it cools.

Break apart and store in an airtight container at room temperature for up to two weeks.
I hope this recipe becomes a staple in your kitchen like it is in mine! More granola flavors coming soon friends, don't you worry!