Look no further, because a steaming stack of soft and fluffy vegan whole wheat pancakes will leave you abundantly satisfied, and planning to make more of this sweet and healthy goodness.
Finding the perfect pancake recipe can be way more complicated than it ought to be. Time and again I find myself falling back to the recipe my mom has always used. I've made small adaptations in a million different ways, but there is something either about tradition that makes these the perfect pancake, or the fact that my mom searched high and low until landing on this unicorn of a recipe.

My mom's recipe isn't vegan, but I've found it easy to adapt to accommodate food sensitivities for us. They are just as fluffy as the original recipe and stick together just as well.
Vegan Whole Wheat Pancake Ingredients
These vegan whole wheat pancakes use applesauce and chia seeds instead of eggs. Both do an excellent job as a binder in this recipe.
Coconut oil and coconut milk are used in place of the traditionally used butter and milk. This gives the pancakes a hint of coconut flavor. Although I love a good butter flavor, the hint of coconut makes for unique and tasty pancakes.
Make sure to melt the coconut oil so that it blends into the recipe flawlessly. We don't want oily clumps!
My personal preference is to sproat my wheat before using it. It isn't necessary and it doesn't change the texture. I sprout my wheat to help make it easier to digest and to release the anti nutrient phytic acid. Here is a tutorial for sprouting wheat.
Pancake Board
My favorite way to serve pancakes is on a pancake board. The sloppy stack just isn't that pretty. Instead I spread the pancakes over the board and then fill it in with a variety of fruit, syrups, ganache, jams, or nut butters. It makes it both beautiful and fun. It also allows everyone to choose how they want to top their pancakes without dirtying a million different bowls.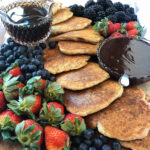 Print Recipe
Vegan Whole Wheat Pancakes
These fluffy vegan whole wheat pancakes will become your new favorite pancake recipe.
Ingredients
1 1/2

cup

Coconut milk

1 1/2

cup

Flour

whole wheat

1/4

cup

Applesauce

unsweetened

2

tablespoons

Chia seeds

4

teaspoons

Baking powder

aluminum free

4

tablespoons

Coconut oil

melted
Instructions
Combine coconut milk, applesauce, and chia in mixing bowl.

Combine flour, and baking powder.

Mix in liquid ingredients.

Stir in melted coconut oil.

Pour dollops onto greased hot griddle.

When pancakes have several bubbles form on surface, flip.

Finish cooking then serve with fruit, syrups, nut butters, or other toppings.
I hope this recipe becomes a staple in your kitchen like it is in mine!