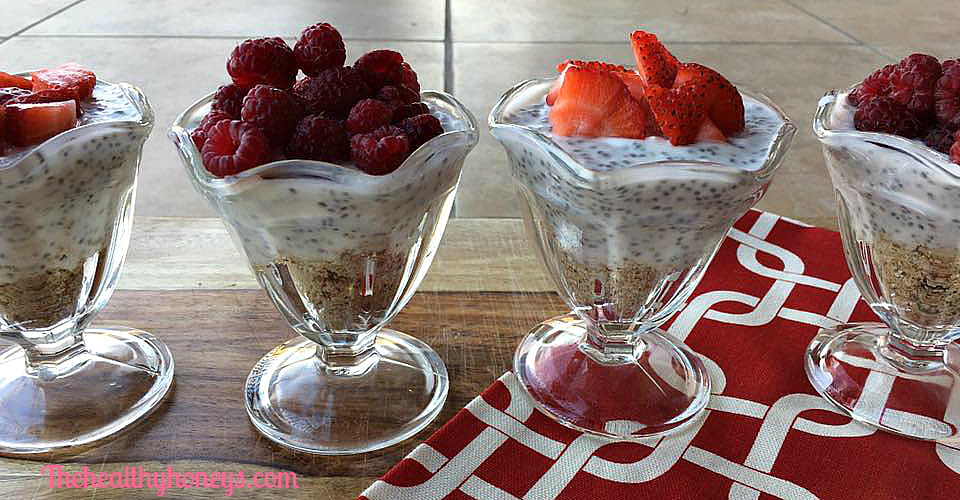 Once school starts life seems to get even busier. It becomes increasingly more difficult to get a good healthy start to the morning. For that reason I love recipes that can be made the night before, or even made and stored in mason jars for the week. We love overnight oats, breakfast burritos that get stored in the freezer, and now this awesome berry breakfast parfait recipe.
This berry breakfast parfait recipe is an awesome make ahead meal. It is dairy free, full of energizing fruit, loaded with nutty protein, and will get your morning started right with health and a full belly. I love topping them with berries, but my very favorite combination is raspberry peach. So delicious!
Oh… and I'd be lying if I said I never ate it for dessert, and for a snack from time to time as well.
Berry Breakfast Parfait
2016-09-21 23:16:58
Ingredients
1/4 C. Chia
2 C. Coconut milk
1/2 tsp. Vanilla extract
2 Tbs. Maple syrup
1/2 C. Rolled oats
1/2 C. Walnuts
4-5 Medjool dates
Berries or other fruit
Instructions
In bowl combine: coconut milk, chia, vanilla extract, and maple syrup. Set aside.
In food processor or blender combine:oats, walnuts, and dates. Pulse until chopped and mixed together. Place in fancy cup or mason jar.
Top oat mixture with chia pudding.
Top chia pudding with fresh fruit.
Refrigerate until chia pudding is firm or overnight.
The Healthy Honey's https://thehealthyhoneys.com/
Like this post? Please share it by:
Pinning it here!