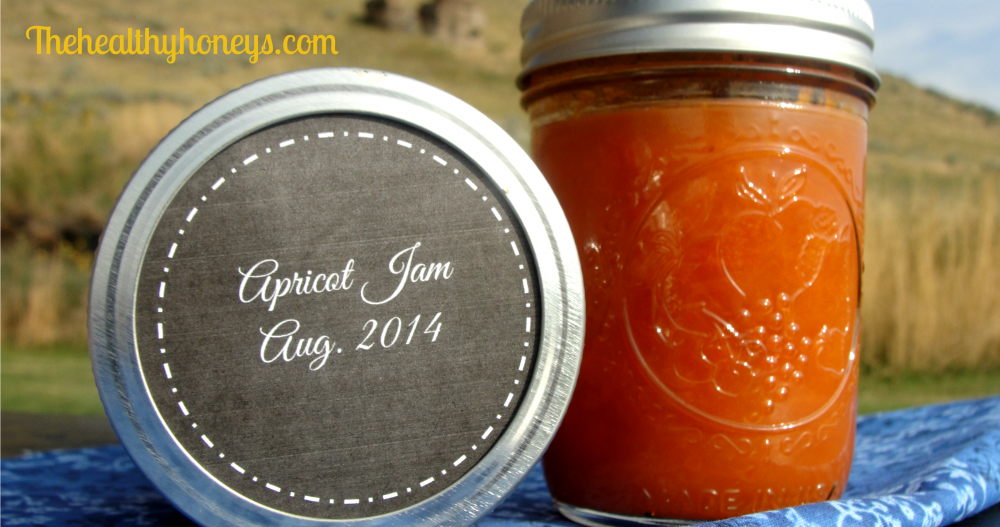 Ok, I have a confession. I don't really like apricots. I don't like the furry feeling, and I don't love their flavor.
Sounds like a great way to entice you to want to make apricot jam doesn't it? Ha!
But seriously! I happily go through a painfully long and tedious process of harvesting huckleberries. I do all I can to beat out my siblings for the strawberry and raspberry harvest. Last year I carefully climbed ladders to the tippy-top while 8+ months pregnant to snatch the last of the apples. I even spend time foraging my parents 150+ acres of property for wild plums. I cried a little when my mother-in-law cut down her peach trees, but generally I don't have a second thought about apricots.
So I found myself in that precarious position on the top of a ladder, reaching for the apricot way up high on the tippy-top of the tree, and I had to chuckle to myself and wonder what I was going to make with all the apricots from that tree. But since I am a total real food, food snob and I'm not about to eat store bought jam of any kind… I would normally just opt for honey on my sandwhich. I decided perhaps it is time to take what I can get, dive in, and make some jam.
So I headed home and made the best apricot jam I've ever tasted. The secret is in the ginger. I also added these fun printable labels. If you like them you can get them on Etsy from OneWillisFamily (psst… that is Megan). If you use the coupon code HEALTHYHONEYS10, then she'll give you 10% off.
The apricot jam is now bottled and frozen all ready for winter.
Real Food Apricot Jam
2014-08-28 13:39:14
Ingredients
5 C. ripe apricots (about 10 apricots), diced, pit removed (keep the skin on)
2 Tbs. Fresh lemon juice
1 C. Honey (or other sweetener)
1/2 tsp. fresh, grated ginger
2 Tbs. Gelatin
Instructions
Place all the ingredients except gelatin in a saucepan and bring to a steady, low boil.
Boil for about 20 minutes, or until the consistency is fairly thick, stirring occasionally so the bottom doesn't burn.
Whisk in gelatin.
Cool, add to jars, seal tightly, and store in the refrigerator for up to two weeks, or in the freezer for up to a year.
Notes
This recipe is very easy to double or triple. I prefer to freeze my jam, but if you're planning on canning this jam, you'll want to sterilize your jars and lids before adding the hot jam to them, and then sterilize the sealed jars in boiling water for about 15 minutes. If you prefer, you can leave out the ginger for straight-up apricot jam. To prevent the jars from cracking when freezing them, leave about 1/2 inch of space on the top and let them cool before placing them in the freezer.
The Healthy Honey's https://thehealthyhoneys.com/
Like this post?Please share it by:
Pinning it here!