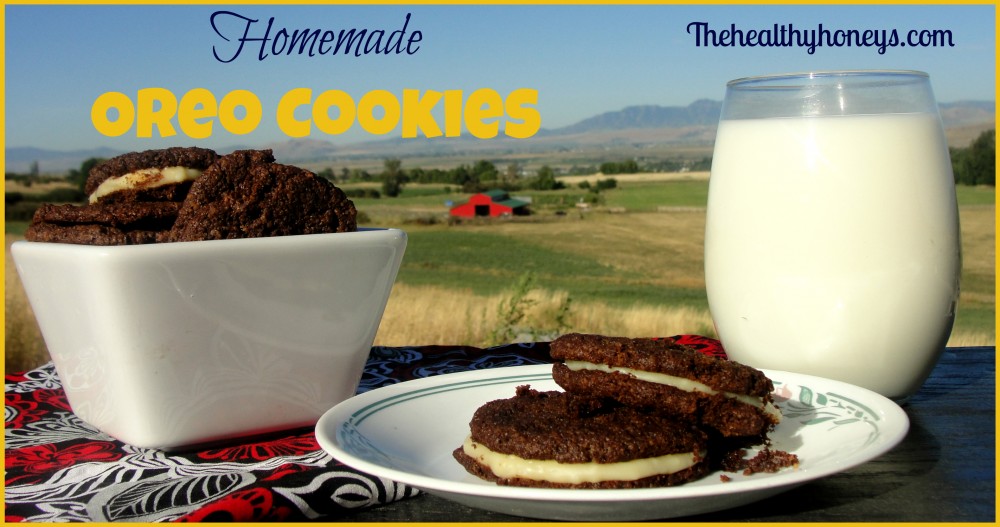 As a child… Oh heck.. as an adult too, I would always twist a couple of double-stuffed Oreos apart making sure to have one clean side and one side with all the cream. Then I would take the 2 plain cookies and put them back in the package. I would then smash the 2 cookies with the cream together and eat my perfectly creamy Oreo. Luckily, I my mom and some of my siblings prefer the cookie only. No one was disappointed. It has been a very long time since I purchased a package of Oreos, so when my daughters told me they were her favorite cookie and that I should buy them, I ask her if we could try making them instead. She agreed. Win, win! I have to confess, I haven't changed much since childhood. And I found myself dipping my cookie in the extra cream, and so did my daughters. It took two batches and some threats to finally get pictures of the homemade Oreo cookies… oh and one full broken glass of milk. But we aren't going to cry about it. 😉
Homemade Oreo Cookies
2014-08-14 19:45:52
For the filling
8 oz Cream cheese, softened
2 tsp. Vanilla extract
1/2 C. Maple syrup (like this)
1 Tbs. Gelatin (like this)
Instructions
Directions
Preheat to 375°F.
In the bowl of an electric mixer, thoroughly mix the flour, cacao, baking soda and powder, salt, and sucanat. While pulsing, or on low speed, add the butter, and then the eggs. Continue processing or mixing until dough comes together in a mass.
Take rounded tablespoons of batter and place on a cookie sheet approximately two inches apart. With moistened hands, slightly flatten the dough. Bake for 9-11 minutes. Set baking sheets on a rack to cool.
To make the filling, place cream cheese, vanilla extract, maple syrup, and gelatin in a stand mixer, and beat until well blended.
To assemble the cookies, in a pastry bag with a 1/2 inch, round tip, pipe tablespoon-size blobs of cream into the center of one cookie. Place another cookie, equal in size to the first, on top of the cream. Lightly press, to work the filling evenly to the outsides of the cookie. Continue this process until all the cookies have been sandwiched with cream. Dunk generously in a large glass of milk.
The Healthy Honey's https://thehealthyhoneys.com/
Like this post? Please share it by:
Pinning it here!