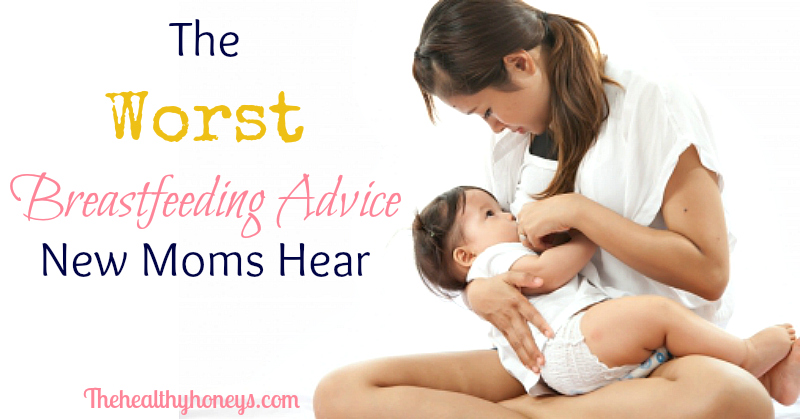 I don't know what it is about pregnancy and having a new baby, but it tends to bring up the worst conversations and the most awful advice. Everything from horror story labors, to the worst breastfeeding advice you'll ever hear comes out of people's mouths when you are sitting there in the most complicated emotional state of your life. For the first time mom this can be a huge breaking point. It leaves them totally confused and completely overwhelmed and when it comes to breastfeeding, can even cause them to make some huge mistakes that affect the health of their babies.
If this is your first time around the parenting block… or your fifth… here are a few tidbits of breastfeeding advice that you most certainly want to take with a grain of salt.
The Worst Breastfeeding Advice
Rough Up Your Nipples
Ok, so I get the logic behind this. Although babies are soft and squishy they can certainly do a number on your nipples, which have never experienced that level of abuse. Those tender little nubs most certainly need to develop some calluses, but if anyone tells you to rough up your nipples with sand paper, or a tooth-brush, or to rub them raw with a wash cloth you may want to reconsider.
Instead, I suggest investing in some lanolin, and using it generously after every feeding. If you are having a hospital birth, they generally have lanolin on hand, and if they don't already have it in your room you can generally request a tube.
However, I wish I would have known a thing or two about how awful and painful it can become to nurse when you first have a baby. So although this idea is a bit extreme, I do wish someone would have warned me that the first couple of weeks are really hard, and then again when baby gets teeth you may need to build up a greater tolerance.
You Don't Have Enough Milk. Supplement.
When I ask a group of women about the worst breastfeeding advice they had ever received, I was shocked by how often this one came up. New moms have heard it all from simply that they weren't producing enough, to needing to feed them rice cereal at 1 month because they are a big baby. They've heard that colostrum is not enough to nourish an infant and that they need to supplement until their milk comes in. They've heard that because they have small breasts they will never have enough milk. What it boils down to is that no one seems to trust that a new mother's body can nourish an infant and that they need to supplement.
Most of the time… like 99.9% of the time, this is false. Babies have tiny stomachs and they need to eat often, which is actually a really good thing for the new mom. She needs to be nursing frequently so that her supply can grow with the infant. When she decides to supplement, whether from pressures put on her about inadequacy or from the basic frustrations of those first few weeks, she often does herself a disservice and can perpetuate breastfeeding problems, or it can cause her to give up altogether because supplementing makes it far harder to successfully breastfeed.
So when do you worry that you are that you are the exception?
It's never wrong to have concerns. A mother's intuition is important. Don't ignore it. But keep these things in mind…
If you have PCOS or other hormonal imbalance issues you may struggle initially to establish a good milk supply. If you are planning ahead here is some info to help you with that.
If you are losing weight rapidly. It is important to eat healthy and not get too anxious to diet and lose the baby weight. Specifically make sure you are eating enough healthy fats. Also, adding in some fermented grains or some Mother's Milk Tea can also be very beneficial. I love this soaked oatmeal recipe for boosting milk supply.
If you have breast hypoplasia, multiple sclerosis, or if you had diabetes during pregnancy you may struggle with low milk supply.
If you had a previous breast surgery it can be unpredictable whether or not breast surgery will affect your ability to breastfeed. But it can play a role in complicating the process.
If you have experienced previous low milk supply you may want to be aware of how your baby is reacting. Is it working ok this time? Is the baby constantly hungry? If you've experienced a low milk supply previously you should know what that is like. Try the oatmeal, and the tea. If nothing works then you may need to consider supplementing.
If you have insufficient glandular tissue.
Also having a difficult time breastfeeding may have nothing to do with your milk supply. Be aware of these factors that can make breastfeeding difficult for the infant:
has a cleft lip and/or palate identified during pregnancy
has cardiac complications, or other congenital conditions like Down syndrome,
is diagnosed with intrauterine growth restriction,
or is born prematurely.
Feed on a Schedule
This not so awesome advice goes both ways for new moms. It is common to hear that if they feed their infant too frequently (closer than every two hours) that all kinds of problems will develop, including tummy aches, a dependence on the breast, using the mom as a pacifier, that the infant will be spoiled and learn to manipulate the mom, and using her for comfort and not nourishment.
For some moms scheduled feeding can be a huge benefit, but for most, there is no reason to listen to infant cry for thirty minutes just to reach some fake ideal of how often it is ok to eat. I don't know about you but if I'm thirsty, regardless of how long it has been since I had a glass of water, I get a drink. Why should it be any different for an infant? New babies also need comfort, and what could be more comforting than being snuggled up close to mommy and nursing? It's ok to take that time to comfort a baby, they won't overeat just for the sake of eating.
Moms also hear that you need to feed an infant every four hours even if you have to wake them to do so. In some cases this can be good advice. If you are struggling to get your little one to gain weight, if failure to thrive is threatening, or if mom is having a hard time building up her supply, then yes you probably better be waking that baby up. But if they are gaining weight normally and they want to sleep for six hours then waking a baby can just cause both of you additional frustration and worry.
You Need to Wean Because…
Everyone seems to have an opinion about how long is appropriate to nurse a baby. The reasons very as much as the length of time that is acceptable. Moms often hear all of the following:
You should stop breastfeeding because extended breastfeeding is "gross".
There is no benefits to nursing after 6 months, so anything after that is just a waste of time.
Your body has done enough and it is time to quit.
You should stop nursing when baby shows signs of teething.
You should stop because breast milk has no nutritional benefits after one year and is only for comfort after that.
If your baby isn't sleeping through the night you should night wean to fix the problem.
The truth is…
Extended breastfeeding is beneficial to both the mom and the baby. Breastfed babies and toddlers are smarter and healthier. The only reasons a mom needs to wean is if it isn't benefiting the parent child relationship any longer, or because she is ready to do so. (source)
Give Your Infant Cereal to Help Them Sleep
This advice has been around for quite some time and was a commonly used trick in the past. However, women are hearing this for their 10 week old infants. They are hearing it every time they have a rough night. They are hearing it regardless of the fact that infant cereal can cause some big problems inside those delicate baby guts.
I get it. Something solid and heavy like cereal seems like a good idea. It would keep a baby satiated longer and keep them asleep longer. Here's the problem. A babies gut is designed to digest milk. Milk is mostly made up of fats, and proteins. It is not made up of anything that is difficult to digest.
Cereal is not a natural first food. Oh no! Yep, I said it. I just went against the recommendations of doctors everywhere, and now I'm going to have to explain myself….
Good first foods are fat and protein heavy. Avocados, pureed liver, and egg yolks make fantastic first foods. They are naturally loaded with iron and fats that growing babies need.
Ok… back to infant breastfeeding advice, because let's face it. The first foods topic is really an entirely different subject that we will address in length soon, but not in this post.
Let's just leave it at, please don't feed a baby cereal just to get them to sleep longer at night, especially before six months and more appropriately don't feed them cereal until after a year.
It's Normal for it to Hurt
Well, yes. It is normal for it to hurt at first. Hence the reason you also get advice to rough up your nipples. Sometimes it isn't just about getting callused however. Sometimes, there are other concerns, and if it hurts for a long time, or really bad then you should totally figure out what is up.
Painful breastfeeding could be caused by:
A tongue tie
A lip tie
Inverted nipples
It is not caused by:
Your boobs being too big
Your boobs being too small
Baby not knowing how to suck.
Breastfeeding is Hard, You Won't Make It
Thanks for the vote of confidence. Am I right? Yes breastfeeding can be hard. You are learning, the baby is learning. There are all kinds of things that can complicate it. However, in most cases, after you get through the first month you and your baby will find your rhythm and you'll learn that you most certainly can do it!
A lot of women hear it is hard to breastfeed, that so many women can't do it, that they will never make it more than a few months… And yes it is hard, and a lot of women don't make it, but why? I'm sure the answer to that question is loaded. Breastfeeding is complicated. However, most women also don't know about the tools they can use to help get through the rough patches. First of all, a good lactation consultant can be worth her weight in gold. Hospitals generally have a consultant see you with each baby. Make sure you don't miss out, especially if you are experiencing a lot fo pain with breastfeeding or if you have any abnormal circumstances. A lot fo areas also have le leche leagues which offer all kinds of breastfeeding support. You can find your local Le Leche League here. If you're struggling don't give up, just get some help and some support. However, if it isn't going to work, then don't beat yourself up. Breastfeeding is hard.
Breastfeeding is Natural
It's just so "natural". It will be easy…. And yet there are so many moms that sit there in tears wondering what is wrong with them, wondering why it isn't working, wondering why it hurts. The truth is, breastfeeding is natural… natural like learning to walk, not natural like breathing. There are often bumps and bruises but most of the time with patience and effort it does get better.
So if you are feeling completely overwhelmed with breastfeeding, or if you are feeling like a failure just know that this too will pass, and if you think something else is wrong don't hesitate to find a helpful lactation consultant or your local Le Leche League.
You Should Formula Feed Because…
No one wants to see your boob.
Personally, I don't want anyone to see my boobs, however, that isn't going to stop me from feeding and nourishing my baby the way nature intended it. Out of respect for myself and others I will wear clothing that makes it easy to keep myself covered. However, it is totally wrong and selfish for anyone to tell a mom that she shouldn't breastfeed because they don't want to see a boob. It's about the baby not about anyone else.
Grandma wants to feed the baby.
Oh grandma! We all love you. We know that your baby making days are over, and that you want to build a connection to the precious little one too. We also know that in your day, formula feeding was all the rage. However, this isn't a decision that is up to you. Breastfeeding isn't something that any new mom should be pressured to give up just because someone else wants to connect with the baby. There are lots of ways to connect with a baby. You can give the mom a break and try wearing the baby for a while, or you can snuggle the baby.
It's easier.
It's easier? Say what!?
Ok yes, breastfeeding can be hard at first. It can be difficult when you are the only one capable of providing needed nourishment in the middle of the night. But, I wouldn't say it is easier. It's not easy to get up multiple times per night to warm a bottle. It 's easy to roll over and just offer a breast. It's not easy to pay for formula. It's easy to make breast milk… in fact your body does it without you thinking about it at all. It's not easy to carry formula around everywhere you go. Built in, temperature regulated milk supply is easy. It's not easy to constantly be sanitizing bottles. Ultimately, It's not for anyone else to make those kinds of decisions. Both have their ups and downs. For some bottle feeding is easier. But only the mom can be the judge of that.
Formula is really advanced now, and is just as good as breast milk.
Ok, this is the biggest one for me. I'm actually shocked that women hear this. Yes formula has improved. There are a lot of infants that need formula to be advanced and good for them. And I'm grateful that moms have an option when breastfeeding doesn't work out, or because they chose not to breastfeed.
However, to say that formula is equal to breast milk is just false and sickening. The truth is breast milk adapts to your infants needs. Breasts literally take saliva samples when nursing and adjust the contents of the milk to supply what the baby needs. Breast milk also contains antibodies and stem cells.
There is certainly something about being a new mom that makes everyone think they know what is best for you. SOmetimes, those wonderful advice givers really do have a lot to offer, and other times it's far better to rely on your momma bear instincts and the knowledge of people who really know what they are talking about.
Maybe you will find that some of this advice wasn't so terrible for you. Maybe roughing up your nipples will save you from cracked and bleeding nipples. Or perhaps, you will choose to skip breastfeeding altogether and save yourself from both.
Regardless of what you chose, the choices are yours. Just be careful who you listen to, and never be afraid to seek out help. Breastfeeding can be the easiest most natural thing out there… or it can be really really hard.
What is the worst breastfeeding advice you have ever received?
Like this post? Please share it by:
Pinning it here!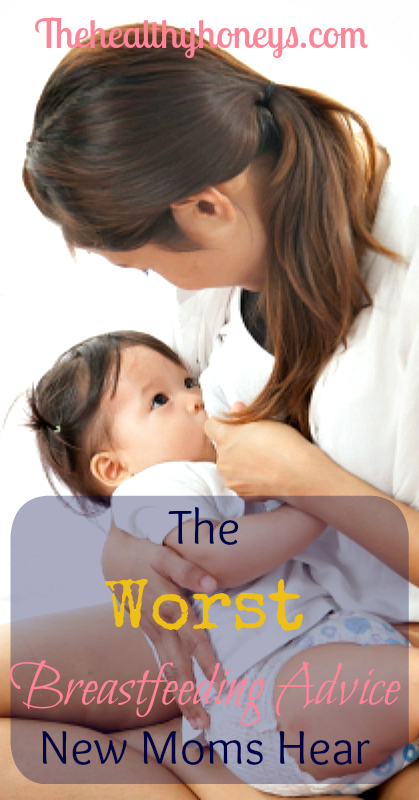 Photo credit: Freedigitalphotos.net/Jomphong