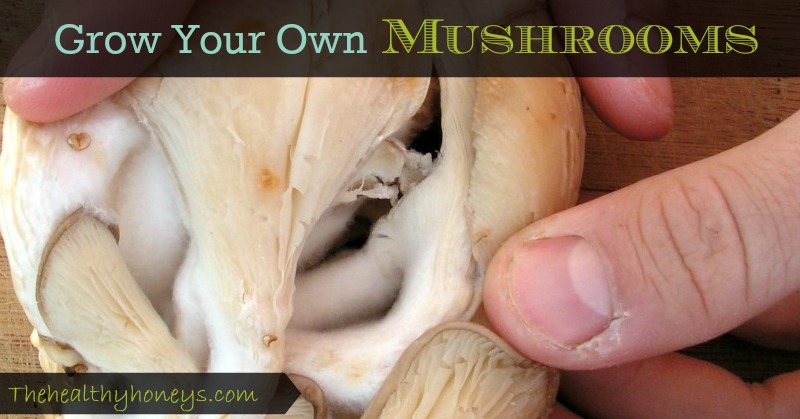 When I was a kid, the thought of eating mushrooms was repulsive. How in the world anyone liked mushrooms was beyond me. My husband was the same way. Now we are totally into eating mushrooms with our meals as a yummy side or in dishes.
Trying out new things is a fun hobby of my husbands. Especially when it comes to gardening which luckily for me is totally in my benefit!
So, our latest experiment has been to grow our own mushrooms.
When you look up mushrooms to grow at home, oyster mushrooms are usually said to
be the easiest to grow ( Never try growing mushrooms that you just find in your backyard or in the forest unless you have a lot more knowledge about mushrooms than us).
Mushrooms grow from spores. A mushroom spore is a unicellular organism responsible for the reproductive processes in mushroom producing fungi. The way we are doing it isn't from spores (It is a whole extra step to grow mushrooms from spores and quite difficult to do, also hard to find). We are going to start the process from mycelium.
Mycelium- the part of the body of a fungus that does not reproduce and usually consists of a ma
ss of hyphae that are often growing in something else (as soil, organic matter, or the tissues of a plant or animal host) . You can recognize mycelium by looking for white almost furry, thread like fibers along the stalk of your mushrooms.
So today we are growing store bought mushrooms from the mycelium found along the stalk.
When trying to find mushrooms to grow we looked in the organic section at the stores for oyster mushrooms that were attached to one stalk. Then you look for the most mycelium.
Take it home and here we go!
How to Grow Your Own Mushrooms
What you need:
1) Oyster mushrooms with stalk and nice mycelium.
2) Cellulose material (aka bedding).
3) Water without chlorine (spring or distilled water).
4) 4 Small brown paper bags.
5) Bowl .
6) Container to place your mushroom start in.
Now this is the first step. We let it sit for three months. The next step is simple. We will do a post on it when we have it mastered! So start your mushrooms now and look for the next step when yours is ready 🙂 Hope you enjoyed it and happy mushroom growing!!