Cloth toilet paper is easy to make, good for preparedness or emergency situations, softer on your nether regions, healthier for the environment, and reduces toxin exposure to your body.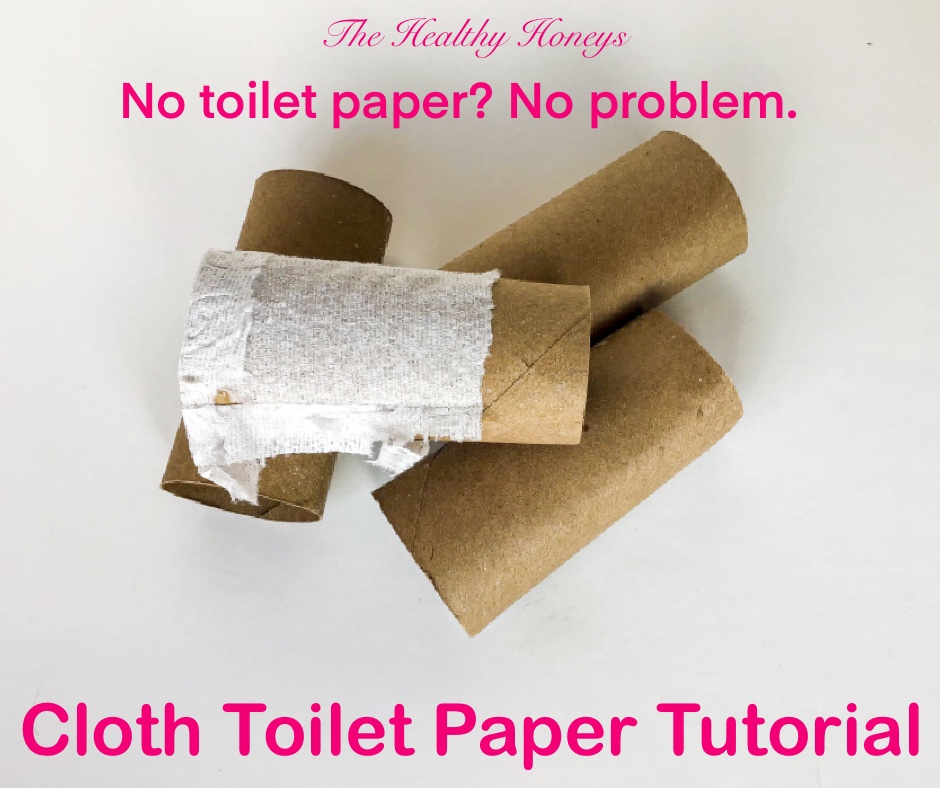 Apparently there is nothing like a pandemic to show us our weaknesses. In 2020 we are seeing that we are deeply reliant on toilet paper, a product that has existed less than 200 years on this planet. SO, whether you can't find any toilet paper anywhere, you want to be better prepared the next time the world goes totally bonkers, or you want a more eco-friendly option this tutorial is for you.

How to Make Cloth Toilet Paper
If you are in a pinch, want it to be simpler, or think this much effort is silly, you could also use old towels, t-shirts, or those ridiculously small receiving blankets to cut up and make cloth toilet paper.
Supplies/Equipment:
2 yards of Flannel (go ahead and make it cute! and if you want, coordinate different colors one for each side) Sharp Scissors or Rotary Cutter and Board Sewing Machine or a Serger Matching Thread
A sharp pencil or a chop stick
Makes about 36-Ish Wipes. (I think it has the potential to make more but we got one yard one size and the other yard a different size and it didn't seem to add up like we planned. Plus material isn't perfect so that is why it is -ish-)
STEP 1: Wash and Dry Material
Gets rid of the chemicals they use and then it helps with the shrinkage factor before you sew them together.
STEP 2: Cut the flannel into 6 1/2X6 1/2 inch squares
It helped to have a big flat something and measure out the measurements and mark it with a pencil. Then cut them out.
I feel like this is the perfect size but if you want to adjust the size (possibly for trying to make baby wipes or whatever else) have fun experimenting! Ending amount will vary in this case.
*Note we planned the seem allowance so the end product was about 6×6
STEP 3: Put them together
Sewing Machine Serger -Put the right sides together -Put the wrong sides together
-Sew 1/4″ around the edges -Sew 1/4″ around the whole
except leaving a 2 inch gap thing and Viol'a you're done!
STEP 4: Turn them inside out
Those pesky corners are a true pain. But it helps if you have a sharp pencil or a chopstick to poke them out.
STEP 5: Close the gap
In order to close the gap without it looking super tacky I just folded the sides in and made them match the rest of the sewn edges and then just did another go around with the sewing machine closing it off and in doing so adding a little more reinforcement.
Clip the threads.
You can iron them if you so desire, otherwise YOU'RE DONE!!
Pros of Cloth Toilet Paper
Get's rid of the toxin's touching my skin.
Saves money in the long run.
Helps protect from infections.
I feel cleaner and not smelly.
They are super soft.
Good preparedness item, even if you don't use it regularly.
Pairs perfectly for use with a bidet.
Cons of Cloth Toilet Paper
One more load of laundry (unless your are cloth diapering then go ahead and throw those babies in together).
Takes time getting used too
So after I have made my dreamy cloth toilet paper what the heck happens next??
Storage
A simple basket on top of the toilet will do, but you could also use a cute box, or bin beside the toilet.
Usage
You can choose to use the wipes dry or wet or in conjunction with a bidet. You can use a spray bottle to get them wet. I use a spray bottle and use it on the mist setting, getting one side moist but not soaking. Then I wipe once with the wet side, fold it in half and use the more dry side to wipe a second time to dry off. You can fold it again if you feel the need or call it good.
After Use
A couple of people had said that they used a trashcan that had a lid on it and used a pillow case as the liner and placed them there until it was time to wash.
Some people fill up a waste basket or a water proof bag with a vinegar and water mixture (Huge fan of vinegar here, so I just dump enough in until I feel like it is good enough) and place them in that until it is time to wash them.
You can choose to place the #1's and the #2's in the same area or you can have them separate.
Sanitizing
I use my hottest water setting on my washer and I dump in a cup of vinegar in and wash them like normal. Drying on high heat may kill extra pathogens. Bonus!! If you are cloth diapering you can just wash them with your cloth diapers
QUESTION/ANSWER
Q: What do you do for guests?A: You can just keep some store bought TP on hand for your guests.
Q: Can I really use these for my #2 business?
A: Yep! If you have ever heard of the Squatty Potty or the more Eastern style of going to the restroom (squatting more instead of our 90 degree style of sitting) you are less likely to make a messy deposit. Therefore not leaving much to be wiped up. If you feel like it is going to be messy, then use some of the store bought TP that you have saved for guests, or invest in a bidet attachment for your toilet.
Q: Does it smell?A: I haven't ever noticed a smell. If you feel like it smells, go ahead and wash them then and there. Also, using a storage container that has a lid will help to prevent smell.
Q: What about menstruation?
A: You have a few options here: Make some monthly cloth wipes. Make them in the color red (so not to ruin the color of other cloths). Put some hydrogen peroxide on them if needed. Get a bidet to further reduce the mess. Or use store bought TP for a few days each month.
Like this post? Please share it by:
Pinning it here!