Does it seem wrong that we need supplements to get enough nutrients? I certainly think so. But I'll tell you what, there are some supplements that certainly have an effect on how I feel. I feel better after taking them. Otherwise, I would totally think that supplements are a scam. But the fact is, we don't live on the same planet our ancestors did. Our grandparents didn't need supplements. The food they ate provided them with the nutrition they needed. Here is why: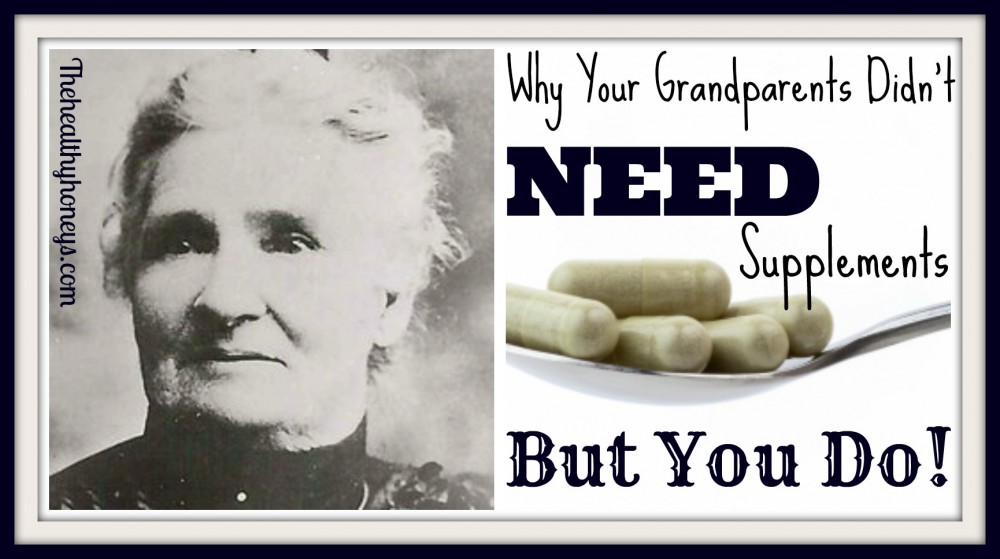 They didn't have a soil depletion problem
Our ancestors lived in a time when their crops were fertilized with manure and compost. They put back what they took out. They also changed the crops that were planted in any one spot from year to year. By doing these things they built up their soil, and made it more fertile.
Today, we plant the same crop year after year in massive fields. To control the pests that these massive crop fields create we spray them with pesticides. Now if the pesticides only killed the bugs that were destroying crops that would be one thing. But these pesticides seep down into the soil. They destroy earthworms and soil building microorganisms; killing our dirt. Then once our dirt is good and dead we apply chemical fertilizers. We also use herbicides. We burn off the carbon materials left in fields to make next years crop easier to plant. We over-graze, and over-plough. (source)
Experts predict, if we continue abusing the land the way we have been, we will run out of top soil in approximately 60 years. Meaning our posterity is in serious trouble!
The only produce was organic produce
Our ancestors didn't need to know the differences between organic, conventional, and GMO. Everything they ate was produced naturally. Food produced naturally is generally higher in essential nutrients. There is no concern that what we don't know about chemicals or GMO's may be harming us. And that what we do know, we probably don't recognize the seriousness of. For example:
All chemicals are estrogenic, which causes hormonal imbalances in humans. Hormone imbalance causes infertility, weight gain, abnormal hair growth, moodiness, etc… We don't really know where that list may end.
They didn't have highly processed foods
Their milk was raw, their bread was whole wheat. Their salt was what we now call sea salt. And their meats and eggs came from their backyard. Their animals were raised on green grass, and were free to roam their fertile fields. If they wanted food they prepared it from scratch.
Unlike the modern-day grocery store, our ancestors didn't have freezer meals, potato chips, candy bars, or crackers. They wouldn't know what canola oil is. And although they did use some sugar their intake would pale in comparison to the daily intake of today. Sugar was a delicacy, and if and when they used it, it was raw and generally brown (which means it still contained some nutrients).
They ate the entire animal
Livers, hearts, and bones. Bones, hearts and livers. Sounds a little witchy to us today but, these items were coveted and fought over, used and valued, not quickly discarded into the garbage pail. Our ancestors ate liver weekly and if they wanted soups or gravies then they used the bones to make it. regularly eating organ meats provided our ancestors with vitamins A, D, E, K, B12 and folic acid, and minerals such as copper and iron. Bone broth (gelatin) is beneficial to your joints. It makes your hair, skin, and nails strong and healthy. It is a huge player in a healthy gut. Bone broth also helps eliminate toxins.
They ate fermented foods
Sauerkraut, kimchi, kombucha, kefir, yogurt, lacto-fermented pickles, etc…. These were huge parts of our ancestors diets. By eating these foods our ancestors had healthy and strong guts, full of natural probiotics.
The truth about our awful situation
The truth: We are starving ourselves. Daily we self inflict pain, hormonal imbalances, and sickness by eating a standard American diet. And to compensate for that we have to take loads of supplements.
The truth: We can add in as much organic food as possible, we can start eating fermented foods and liver. These things will help, but our soil is still massively depleted. We are still exposed to, somewhat unavoidable, toxins and chemicals and some supplements may still be needed.
So what supplements are worth taking?
Depending on your specific needs this list could vary. But for general health I think the following are worth taking:
Although we live in a different time than our ancestors, we can still put forth efforts to eat the way they did. And to find balance and health in our lives.
Like this Post? Please share it by: