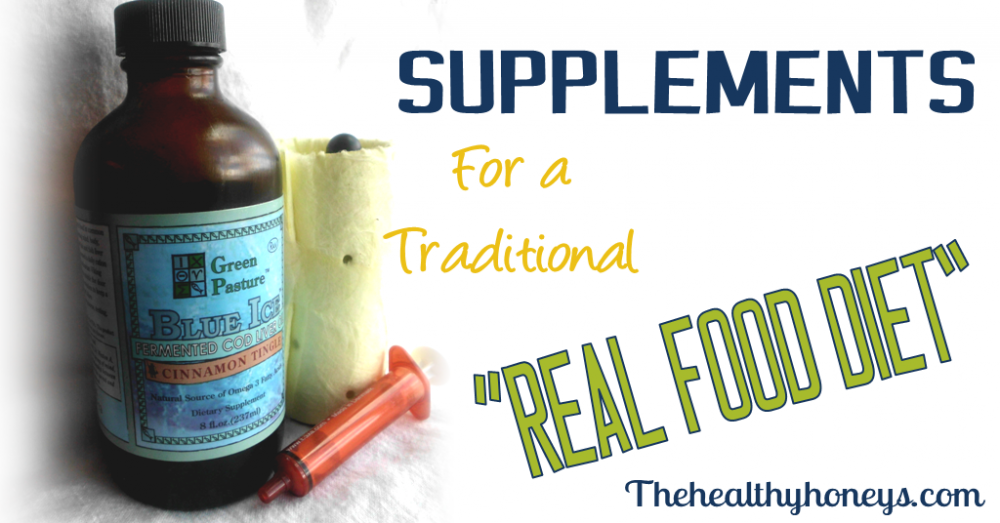 What are the best supplements once you've started eating real food. Or are they even necessary. When I first decided to make the switch to better health I was really skeptical about dumping a bunch of money into supplements. After all I am working hard to eat things that will nourish my body. Why would I need to pay for supplements too.
Or what about the idea that I can eat whatever I want and take a multivitamin and be just fine? I don't think so sister! Supplements can never make up for a bad diet. I loved when I came across Weed'em & Reap's book Eat Cake Lose Weight. She has a section that talks about supplements for a real food diet. It's so simple and makes sense.
The fact is, a traditional diet should be full of the nutrients that we need, so if we are eating a traditional real food diet we shouldn't need to supplement much at all. However, because we live in a world with toxins and soil depletion we may need to supplement or if we are just switching to real food our body has some catching up to do and may benefit from a few supplements.
So that being said: What are they?
One supplement we should all take
Fermented Cod Liver Oil
Many people have heard of fish oil and if you've been a foodie long you know that we all have a bottle of Fermented cod liver oil in the fridge. But why? First off Fermented cod liver oil isn't equal to many of the fish oils available on the market today. Most fish oil has been extracted through heat which destroys many of the nutrients and enzymes ( you know the ones we wanted in the first place). Fermented cod liver oil is extracted through a cold process thus it retains it's nutrients. So why should we take it? Fermented Cod liver oil has been used traditionally for thousands of years to boost ones health. In Dr. Weston A. Price's book on Nutrition and Physical Degeneration he noted that every one of the 14 isolated traditional cultures he visited ingested Fermented Cod liver oil regularly to supplement their diet.
Fermented Cod liver oil is one of the most, if not the most nutritious foods there is. It is high in EPA's and DHA's. These are vital in maintaining brain and eye health. They regulate cell activity and cardiovascular function, and are very important in fetal brain development. These also improve Alzheimer's, Dementia, Depression, Autism, ADHD, Aspergers… and the list goes on. FCLO also is high in vitamin A and D. It is a fertility booster and overall super food.
Other Supplements you can take
The following supplements may be good depending on your circumstance.
Magnesium
Magnesium is difficult to get because of soil depletion. And because sugar depletes magnesium it may be difficult for some people to keep. Some side effects associated with magnesium deficiency are acid reflux, adrenal fatigue, PMS, Diabetes, Migraines, Morning Sickness, Inflammation, Kidney Stones. ( you want to learn more check out The Magnesium Miracle by Dr. Carolyn Dean)
The best way to get magnesium is through skin absorption so try some magnesium oil spray, magnesium oil (for the bath), or ionic drops.
Gelatin
Gelatin helps heal the gut. This is a major player in people with food intolerances or Gaps symptoms. I've used this to make yummy jello and fruit snacks. This is the one I use for making gummies. This one doesn't gel and is great for adding to tea or smoothies.
Probiotics
Probiotics are best from food sources like yogurt, kefir, sauerkraut, or fermented veggies and condiments. BioKult is a really good brand of probiotics if you need an additional supplement. (say you are repairing you gut, or healing candida)
Essential Oils
Essential oils are extremely potent and should be used in moderation. They are great and can be used to treat many different things just don't overdose on them.
Melatonin
Melatonin can be used temporarily to get better sleep in order to improve metabolism.
Amino Acids
This can be used for mood issues. You should read The Mood Cure by Dr. Julia Ross
Iodine
Iodine is a something many of us are deficient in. our consumption as a whole has dropped. Plus there are chemicals that interfere with iodine absorption including fluoride, chlorine, and bromine. Taking iodine can detoxify bromates found in white flour, it improves thyroid function, metabolism, and prevents breast cancer. It is highly recommended that every woman take an iodine supplement. If you want to know more check out The Iodine Crisis by Lynne Farrow
Like this post? Please share it by:
Pinning it here!