Fire cider is a traditional cold and flu remedy. It is easy to make and a great immune booster. I make a batch every fall. It is also easy to add to homemade salad dressings, soups, juices, or can be taken as a daring shot.
What is Fire Cider?
Fire cider is made up of a combination of some of the worlds healthiest foods. It is a spicy vinegar infusion. It's fresh ingredients top the charts for natural anti-inflammatories, immune-boosters, and digestion aids. It also supports the lymphatic and circulatory systems.
It is versatile and easy to make. If you don't have enough of one ingredient add a little extra of another. If spicy peppers are too much for you to handle omit them. You will still find great benefits from this recipe.
White Onion
Onions are used in a myriad of natural remedies. Some people put them on their feet at night to pullout toxins, others cut them in half and put them by the bed to remove pathogens from the air. In this case we are infusing them to benefit from their rich variety of nutrients. They are filled with vitamin C, quercetin, sulphur, and potassium. Onions are a great choice for supporting the immune system and the digestive system.
Fresh Garlic
Garlic isn't just for warding off vampires, it has been used as a remedy all over the world and throughout history. Not every use has been proven to be effective, but we do know that garlic is antimicrobial, anti-inflammatory, and a prebiotic.
Fresh Horseradish
I don't know about you but I love a good horseradish sauce. Horseradish is rich in folate, and studies show it helps to reduce congestion and inflammation.
Fresh Turmeric Root
Turmeric is known for its anti-inflammatory properties because it contains curcumin. It can be difficult to find fresh turmeric. If this is the case for you, I recommend subbing in extra ginger in its place.
Fresh Ginger Root
Ginger has been used throughout history to soothe the tummy from all kinds of complaints, including morning sickness, nausea, indigestion, and gas.
Spicy Peppers
In this recipe we turn up the heat. Spicy peppers are not only great for boosting the metabolism and warming the body on cold winter days but they also help support the immune system. Any spicy pepper will do the trick. Jalapeños, habaneros, and cayenne are all good choices.
Lemons
Both the juice and the lemon zest are used in this fire cider recipe. Lemon peel is especially beneficial since it contains the highest levels of d-limonene and vitamin C.
Apple Cider Vinegar
Apple cider vinegar brings it all together to infuse. Make sure to use a raw ACV with the mother. ACV is considered a prebiotic. This means that it feeds the good probiotics in your digestive system.
Fire Cider Tips for Success
Fire cider is relatively easy to make, but can also be easy to ruin if you don't keep these tips in mind:
Vinegar will corrode metal. Use a plastic lid if possible. If not, place a piece of parchment paper over the rim of your bottle, then screw on the lid.
Make sure that all of your veggies are below the level of the vinegar. If anything sticks out it will mold. You can do this by using fermentation weights or wedging a slice of onion into the jar and pressing it in below the level of the vinegar.
Keep in a dark space. Either find a dark cupboard to hide it in, place inside a pot you don't use often, or cover with a paper bag. It needs to be kept in the dark for a month while you wait for it to be ready.
Check on it regularly. The status of a ferment can change daily. Pull the lid of every few days and make sure that nothing has snuck above the vinegar and is molding. If a small piece is molding, scoop it out.
How Do I Use My Fire Cider?
If the thought of all that heat in one quick swallow seems a bit scary, don't fret. That isn't the only way to take it. Fire cider can be added to a bowl of war soup. You can turn it into a spicy vinaigrette. You can even add it to a little juice. You can use it as a dipping sauce for meats or grilled veggies. The sky is the limit.
Fire cider can be used to help you stay warm during the winter months, give a boost to your immune system during flu season, or to ease symptoms of seasonal allergies.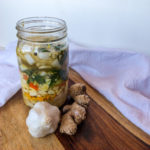 Print Recipe
Fire Cider
Fire cider is a traditional cold and flu remedy. It is easy to make and a great immune booster. I make a batch every fall. It is also easy to add to homemade salad dressings, soups, juices, or can be taken as a daring shot.
Equipment
wide mouth mason jar

fermenting weight
Ingredients
1/2

white onion

diced

1/4

cup

fresh turmeric

peeled & chopped

1/2

cup

fresh ginger

peeled & chopped

1-2

Jalapeños

chopped

1

habenero

chopped

1/2

cup

horseradish

peeled & chopped

1

lemon

juice & zest

~2

cup

raw apple cider vinegar

1-2

sprigs

oregano or thyme
Instructions
Chop or dice all of your veggies.

Place sprigs of herbs into a wide mouth mason jar first.

Add all the veggies into jar.

Press veggies down firmly.

Squeeze lemon juice over veggies.

Cover with apple cider vinegar. Make sure all the veggies are below the level of the liquid. You can use a fermenting weight for this or a wedge of onion that can be pressed into the jar below the level of the vinegar.

Place a plastic lid on the concoction. If you don't have a plastic lid, use parchment paper over the top of the jar. Then screw on a regular mason jar lid.

Put your jar in a dark space. Check on it every couple of days to make sure nothing is molding.

After 30 days, strain out the veggies. Keep the Fire Cider liquid in a jar in the fridge (again avoiding metal lids). It will keep for at least 6 months.

The remaining veggies can be added to stir fries.

Drink daily for immune system support.
Like this Fire Cider Recipe?
We love sharing recipes and tips with you that might benefit your life. If you are looking for more recipes like this we also have a post on fermented sauerkraut which is great for vitamin c and probiotics.
Don't forget to pin this recipe so it is easy for you to find later. Just click on the photo below.