This fermented sauerkraut recipe is my all time favorite. It's full of vitamin C and vibrant in color. Its also the simplest way to make fermented sauerkraut.
Jump to Recipe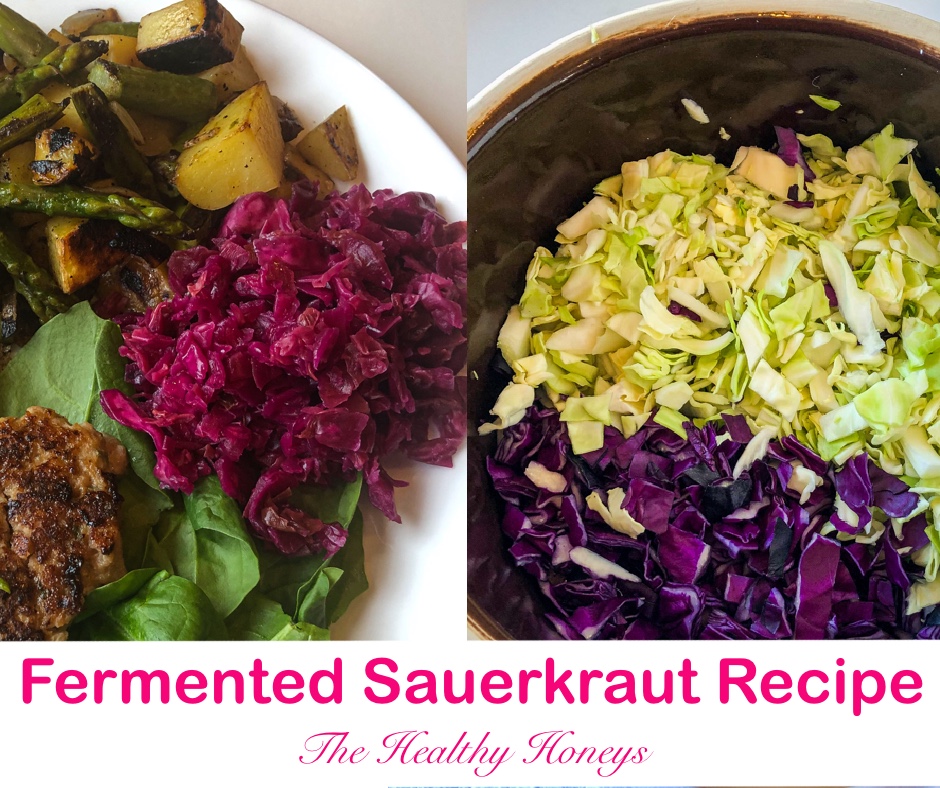 Why Ferment Your Sauerkraut
Fermented sauerkraut has ten times the vitamin C as cabbage. It is also loaded with probiotics. Sauerkraut also keeps in the fridge for over a year, making it a very sustainable option for vegetables in times of crisis.
Learning to Like Sauerkraut
Sauerkraut can be an acquired taste. When I first introduced it to my family it was greeted with grimaces. It didn't take long however, and the entire family was eating it for breakfast almost daily. We went from a small bite or two, to easily dishing up 1/2 cup per person.
I've also found that if it is introduce early in children's lives they quickly learn to love it. It only took putting on the plate a couple of times for my two youngest.
The Ingredients
Fermented sauerkraut is extremely simple. It is made up of 2 ingredients…. cabbage and salt.
For my own personal preference I make my sauerkraut with 1 green cabbage and one red cabbage. I've found that this makes a beautiful magenta sauerkraut. If you use only green it will be a pale green color. If you use only red it will be dark purple.
I personally chose to use Himalayan pink sea salt for everything, including my ferments. Here is more info on salt and what kinds to use.
How to Keep Fermented Sauerkraut from Molding
I've made a lot of sauerkraut over the past 9 years. I started out by making it in gallon glass jars and trying to weight it down with a smaller glass jar with filled with water. I would often struggle to keep the mold off the edges as some pieces still ended up floating.
I also use to let my kids dig in and squish the sauerkraut with their washed hands. Even with washed hands I would sometimes end up finding a half fermented batch gone bad.
Now, I have a fermenting crock with weights and a lid. I also have a sauerkraut tamper. After chopping, no hands touch the cabbage! Once it is squished and pounded to oblivion and the weights are in place I check on it once a day to make sure that no sneaky pieces of cabbage have surfaced to cause any mold issues.
Sauerkraut can certainly be made with whatever you have on hand but the chances of its success are much higher with the right equipment.
Fermented Sauerkraut Recipe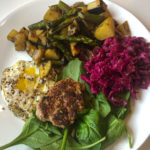 Print Recipe
Fermented Sauerkraut
This fermented sauerkraut recipe is my all time favorite. It's full of vitamin C and vibrant in color. Its also the simplest way to make fermented sauerkraut.
Equipment
2 lb. fermenting crock

Fermenting weights

Sauerkraut tamper
Ingredients
2

heads

Green cabbage

finely chopped

2

heads

Red cabbage

finely chopped

4

Tablespoons

Himalayan pink sea salt
Instructions
Chop cabbages and layer into crock with salt.

Use tamper to smash the cabbage until a large amount of liquid comes out of them. This will take about 15-20 minutes.

Place weights in the crock. Press down. If liquid doesn't cover all of the cabbage you either need to keep smashing or add salt water until all the cabbage is covered.

Check on the sauerkraut daily to make sure it isn't molding.

Fermented for about 2 weeks.

Transfer to glass jars with lids. Keep in the fridge for up to a year.

Serve with potatoes, soups, sausages, sandwiches, or anything else that suits your fancy.
Notes
This recipe can easily be reduced to smaller quantities. Just use 1 tablespoon of salt per head of cabbage.
Like this post? Please share it by:
Pinning it here!