DIY Cloth Diaper: Agitates out in wash, 7-20 lbs
Let me just start by saying I love the design of this diaper. Inserts that wash out. Only two sizes that fit well and are trim. Size one fits from newborn to 20 lbs. I love it!
I had also run into the problem with my first. We bought one size diapers that didn't fit well and were super bulky until 6 months. So with the new baby I wanted to find something that would fit until we could move her up to the one size diapers. This design was great. So here is the imitation… (No you cannot sell these diapers.)
I've tried these out to make sure the inserts agitate out in the wash and it worked great in my top loader washer. I used the DIY bamboo inserts that I made here.
*I wanted to make 20 diapers. Technically you can get about 10 diapers from 1 yard of fabric if you cut it just right…but then all your diapers would be the same color almost. I got 4 yards and used some for my DIY Diaper pail liners. You can also order diaper cut packages.
You will need:
* This is for a size 1. Print off the pattern here: (This contains the shape and placement of snaps and elastics and alignment of microfleece to PUL). Keep in mind I don't really know how to write a pattern but hopefully this gives you the idea.
Step 1: Cut out your fabric.
*always cut on black line
PUL fabric: blue line
Microfleece: green line, orange line
I traced the pattern onto the PUL fabric so I could get as many diapers out of one yard as possible. You will use the full pattern.
For the micro fleece you will cut two pieces for each diaper. I have drawn lines as to where to cut. Cut one from one side of the pattern and the other piece from the other keeping in mind that the two pieces of micro fleece overlap about an inch.
Step 2: Mark your snap locations.
Poke holes in each of the pink dots on the pattern. Line pattern up with PUL fabric and mark snap locations using a pen or pencil.
Step 3: Install socket snaps.
The snaps need to be put in with two layers of PUL fabric so you will need to use the scraps or another piece of PUL to double layer the snaps you will be installing now. The socket snaps will go only on one side of the diaper. It is the part that has two rows of 8 snaps. All of these are to be socket snaps. You will put the cap on the inside…Plastic part and the socket on the outer side. Poke a small hole in your two layers of PUL. Insert Cap and socket on other side. Use Kam Pliers to secure snap in place. Repeat until all snaps are installed.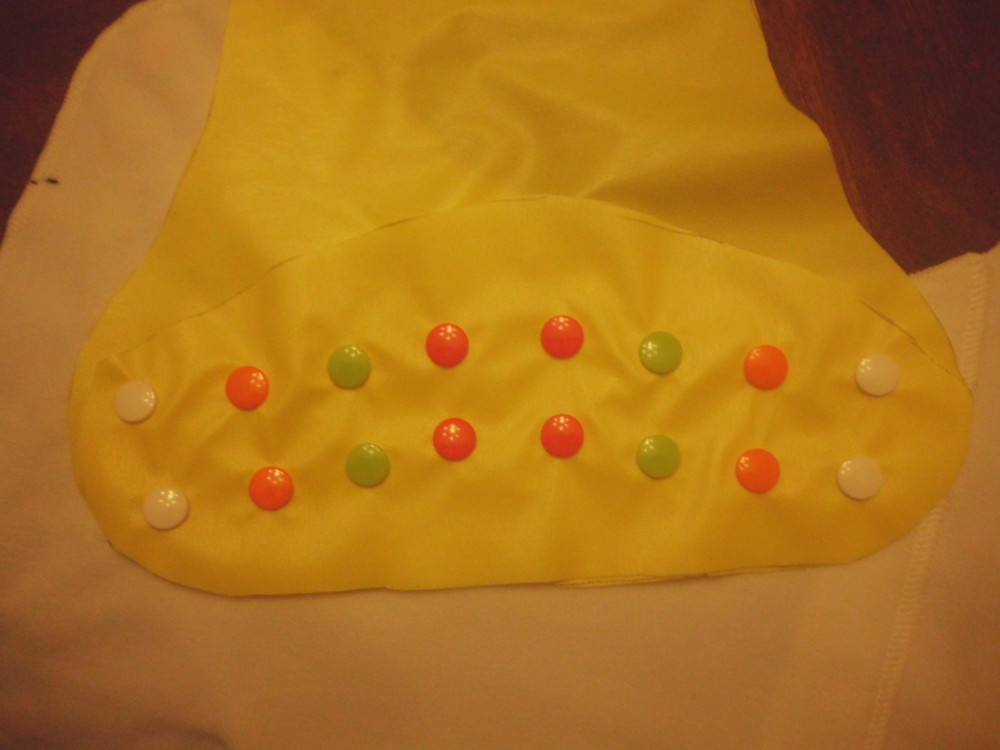 Step 4: Serge micro fleece and PUL together.
So because you are using a serger the edges will be cut as you sew. Also you will line it up just as it will be when you're done. So you're not turning anything inside out. You will want the dull side of the PUL out and the soft side of the micro-fleec out. Line it up so that the longer piece of microfleece overlaps on top of the shorter piece by an inch and the edges all line up. You may want to pin the overlap if you have to. (it is best not to pin in PUL but if you have to.) Serge micro-fleece to PUL all the way around.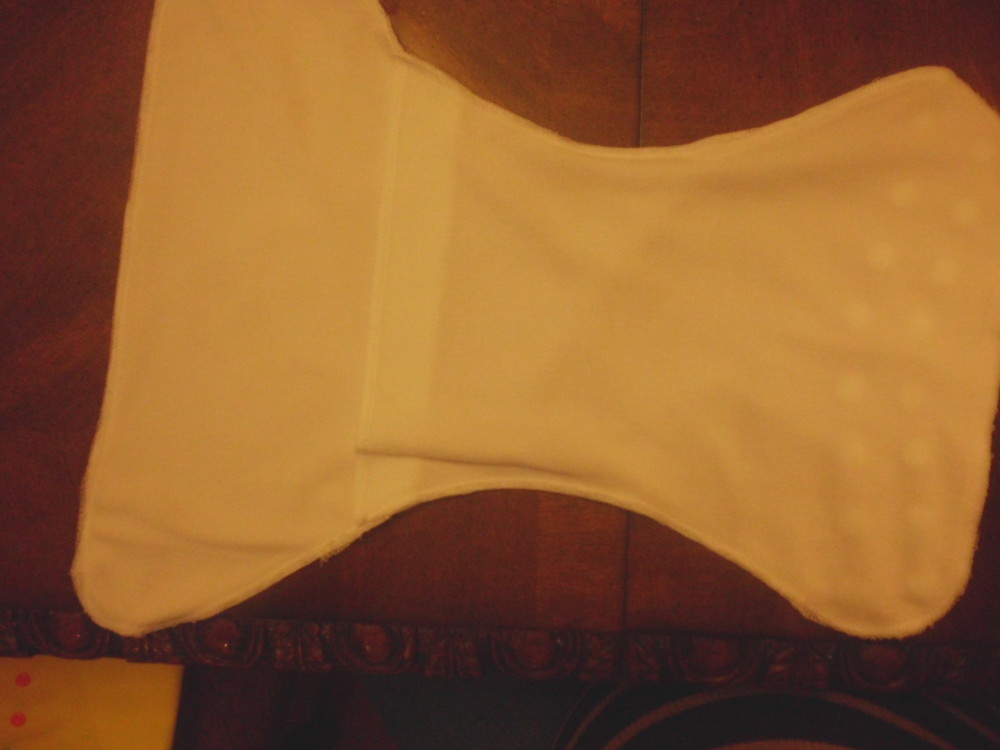 Step 5: Sew in elastics.
Elastic cuts for 1 diaper:
2 elastics: 7 inches (sides of diaper)
1 elastic: 2 1/2 inches (front of diaper…by socket snaps)
1 elastic: 4 inches (back of diaper)
*Use the DIY Cloth diaper pattern to mark elastic locations. Pattern uses pink lines.
You will have two 7 inch elastics for the edges. 1 that is 2 1/2 inches and 1 that is 4 inches. Place the elastic between PUL and micro-fleece, about 1/4 inch from edge. Sew one end of elastic in place, stretch elastic to second mark and sew the other end. Using a straight stitch sew elastic length-wise stretching it so that it is even with the diaper. (I used white on the micro-fleece side and the color of my PUL for the bobbin thread) Do this for all elastics. I found it easiest to start with the front and back elastics and do the side elastics last.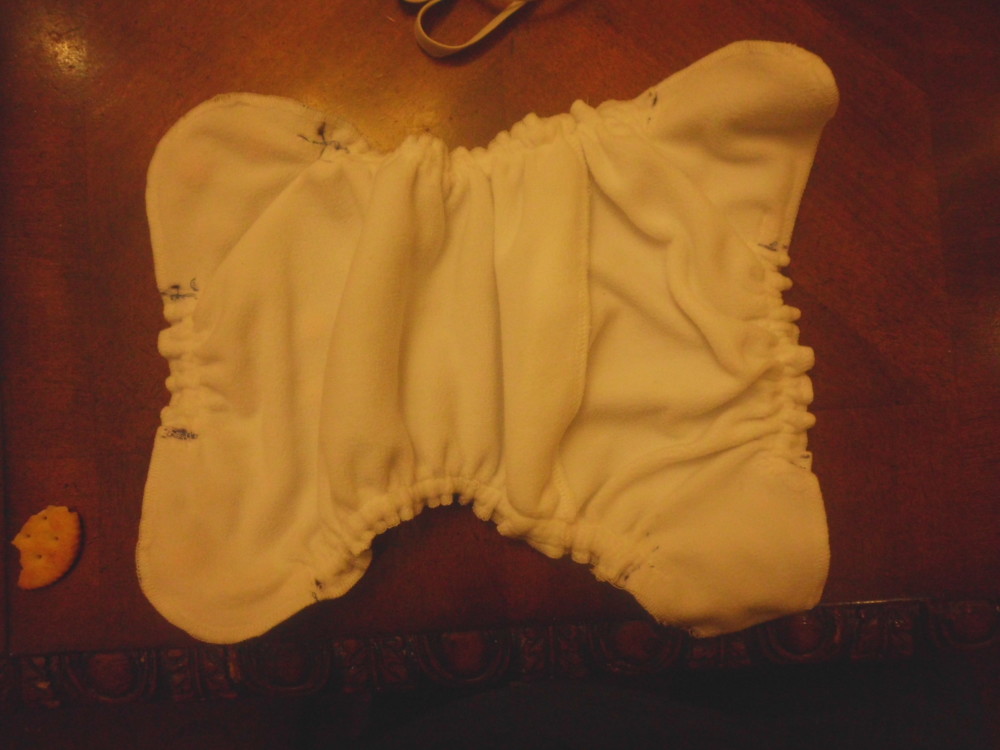 Step 6: Install stud Snaps
These are installed the same way. You may have to mark these snaps again using the yellow dots on the pattern. They do not need a second layer of PUL as they will be going through both the PUL layer and the micro-fleece layer.
And that's it. Try out all your snaps and cut your threads pretty and your done. I noticed that I hadn't always put the snaps on perfectly and had to go back and re-do some so that they snapped the way I wanted.
Like this post? Please share it by:
Pinning it here!