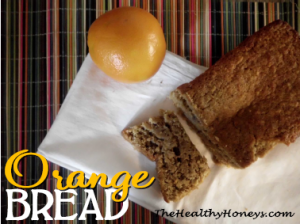 Have you ever heard of orange bread before. I love it. Orange Bread is very similar to banana bread, or zucchini bread but has a zest of orange instead. Real food orange bread makes for a great snack for parties or get-togethers. I took a loaf to our Thanksgiving party this year and will probably take one to Christmas. This citrus bread is delicious not to mention that this is full of Vitamin C, which is great for the flu season or for when a lot of people will be crammed in one little place.
So here's the recipe. I hope you enjoy this as much as I did.
Soaked Orange Bread
2013-12-03 15:20:05
Ingredients
1 1/2 Cup Soaked Wheat Flour
1 Cup Honey
1 Tsp Baking Soda
Dash of Salt
1 Egg
1/3 Cup Melted Butter
Orange Pulp
1 Orange
1 Tbs Honey or Maple Syrup
2 Tsp Water
Instructions
Preheat oven to 325. Mix flour, honey, baking powder, and salt in a bowl. In Blender, mix orange honey and water. Blend until mostly smooth. Add to flour mixture. Add egg and butter. Mix well.
Grease bread pan. Cook for 40-45 minutes.
The Healthy Honey's https://thehealthyhoneys.com/