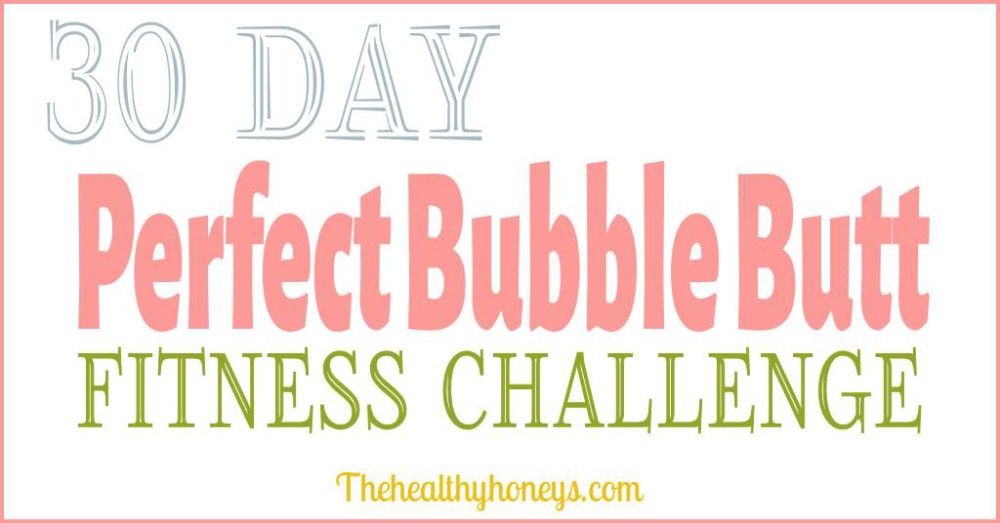 Working out to shape and tone your butt is a must. What's the best way to tone and shape the perfect bubble butt. We've incorporated some great moves into the perfect challenge to shape up. The Perfect Bubble butt workout challenge includes these exercises.
Butt Workout Challenge Exercise how to's:
1. Tip Toe Squat:
Step 1: Stand with your feet slightly wider than your hips and your toes turned outward. Raise up onto your toes and squat down till your thighs are parallel to the floor. Keep your chest up.
Step 2: Return to standing tip toes position. (basically do a squat on your tip toes)
2. Scissor jump lunges
Step 1: Stand with your feet shoulder width apart. Step your right foot forward about two feet. Lunge down.
Step 2: Jump and switch legs in the air so that you land with your left foot in front. Repeat.
3. Wall Sit
Step 1: Lean your back against a wall, your feet should be about two feet from the wall and shoulder width apart. Slowly slide your back down the wall to sitting position. Your thighs should be parallel to the floor and your back should be flat against the wall. Keep your weight in your heels and your knees behind your toes.
Step 2: Lift your right leg for 30 Seconds, Then switch to your left leg for 30 Seconds
4. Donkey Kick Planks
Step 1: Start in plank position. Bend your right knee, flex your foot. Keep your back and hips straight while flexing the buttocks and pulsing your foot toward the ceiling for however many reps.
Step 2: Lower leg down and switch legs. Repeat with left side.
Bubble butt Workout
Day 1: 20 tip toe squats/5 scissor lunges/25 sec wall sit/10 donkey kicks
Day 2: 25 tip toe squats/10 scissor lunges/ 30 sec wall sit/15 donkey kicks
Day 3: 30 tip toe squats/15 scissor lunges/ 35 sec wall sit/20 donkey kicks
Day 4: Rest Day
Day 5: 35 tip toe squats/20 scissor lunges/ 40 sec wall sit/25 donkey kicks
Day 6: 40 tip toe squats/25 scissor lunges/ 45 sec wall sit/30 donkey kicks
Day 7: 45 tip toe squats/30 scissor lunges/ 50 sec wall sit/35 donkey kicks
Day 8: Rest Day
Day 9: 50 tip toe squats/35 scissor lunges/ 55 sec wall sit/40 donkey kicks
Day 10: 55 tip toe squats/40 scissor lunges/ 60 sec wall sit/45 donkey kicks
Day 11: 60 tip toe squats/45 scissor lunges/ 65 sec wall sit/50 donkey kicks
Day 12: Rest Day
Day 13: 65 tip toe squats/50 scissor lunges/ 70 sec wall sit/55 donkey kicks
Day 14: 70 tip toe squats/55 scissor lunges/ 75 sec wall sit/60 donkey kicks
Day 15: 75 tip toe squats/60 scissor lunges/ 80 sec wall sit/65 donkey kicks
Day 16: Rest Day
Day 17: 80 tip toe squats/65 scissor lunges/ 85 sec wall sit/70 donkey kicks
Day 18: 85 tip toe squats/70 scissor lunges/ 90 sec wall sit/75 donkey kicks
Day 19: 90 tip toe squats/75 scissor lunges/ 95 sec wall sit/80 donkey kicks
Day 20: Rest Day
Day 21: 95 tip toe squats/80 scissor lunges/ 100 sec wall sit/85 donkey kicks
Day 22: 100 tip toe squats/85 scissor lunges/ 105 sec wall sit/90 donkey kicks
Day 23: 105 tip toe squats/90 scissor lunges/ 110 sec wall sit/95 donkey kicks
Day 24: Rest Day
Day 25: 110 tip toe squats/95 scissor lunges/ 115 sec wall sit/100 donkey kicks
Day 26: 115 tip toe squats/100 scissor lunges/ 120 sec wall sit/105 donkey kicks
Day 27: 120 tip toe squats/105 scissor lunges/ 125 sec wall sit/110 donkey kicks
Day 28: Rest Day
Day 29: 125 tip toe squats/110 scissor lunges/ 130 sec wall sit/115 donkey kicks
Day 30: 130 tip toe squats/115 scissor lunges/ 135 sec wall sit/120 donkey kick
Like this post? Please share it by:
Pinning it here!