This Healthy Pumpkin Chili is a great way to sneak a few extra veggies into a meal. It is also hearty, satisfying, and very fitting for fall weather. We have been enjoying this recipe a lot lately. I like to make up a pot, eat it for dinner once, and then it makes a quick and healthy lunch for everyone later. I even send it with my husband to work with this awesome gadget.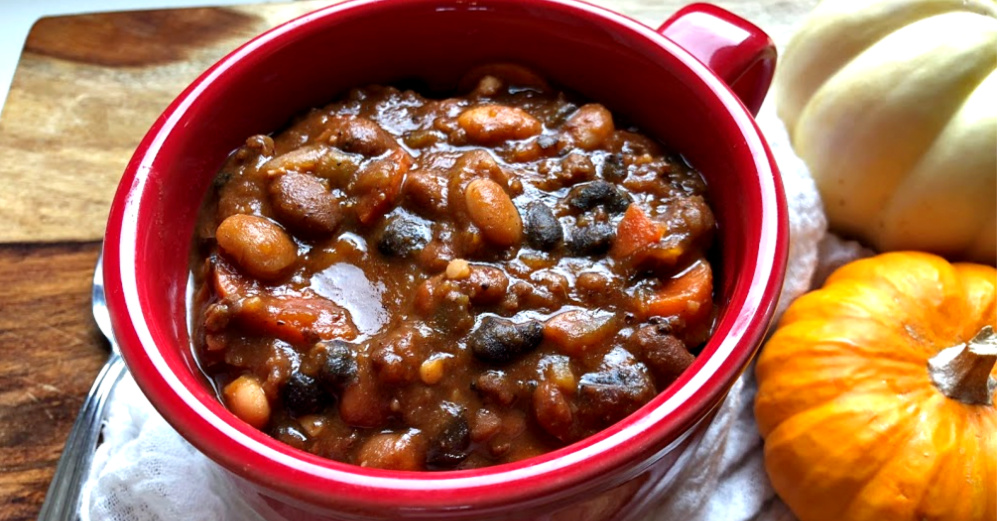 Healthy Pumpkin Chili
What's the difference between any other chili and a pumpkin chili? In this chili, just the pumpkin. And honestly, it doesn't do much to change the flavor. It does add a little extra creaminess to the broth though, and of course it adds extra veggies to your meal and into your kid's bellies. For picky eaters that is always a bonus.
This chili also contains bone broth. Here is a tutorial for how to make bone broth and why you need more of it in your life.
I also use dried beans, and cook them myself because beans contain lots of phytic acid. Phytic acid is an antinutrient and depletes the body of essentials like magnesium. You can easily learn how to remove it by following this bean tutorial.
Pumpkin Chili
2018-11-01 17:26:08
Ingredients
1 lb. Ground beef
1 yellow onion (diced)
5 Carrots (diced)
4 C. Pinto beans
2 C. Black beans
2 C. White beans
1 Qt. Broth
2 C. Pumpkin
2 cans diced green chilis
2 cans tomato sauce
2 cans crushed tomatoes
5 Tbs. Coconut palm sugar
5 Tbs. Chili powder
3 cloves of garlic (minced)
2 tsp. Oregano
2 tsp. Cumin
salt and pepper to taste
Instructions
Cook ground beef in skillet.
Transfer to pot.
Add onion, carrots, broth, green chilis, crushed tomatoes, and tomato sauce.
Bring to a boil. When carrots and onions are soft, add pumpkin, and seasonings.
Simmer for twenty minutes.
Add beans.
Simmer for ten more minutes or until it reaches desired thickness.
Serve with cheese, sour cream, and cilantro as garnish.
Notes
Garlic is stronger if added last minute.
The Healthy Honey's https://thehealthyhoneys.com/
Like this Healthy Pumpkin Chili Recipe? Please share it by:
Pin it here!