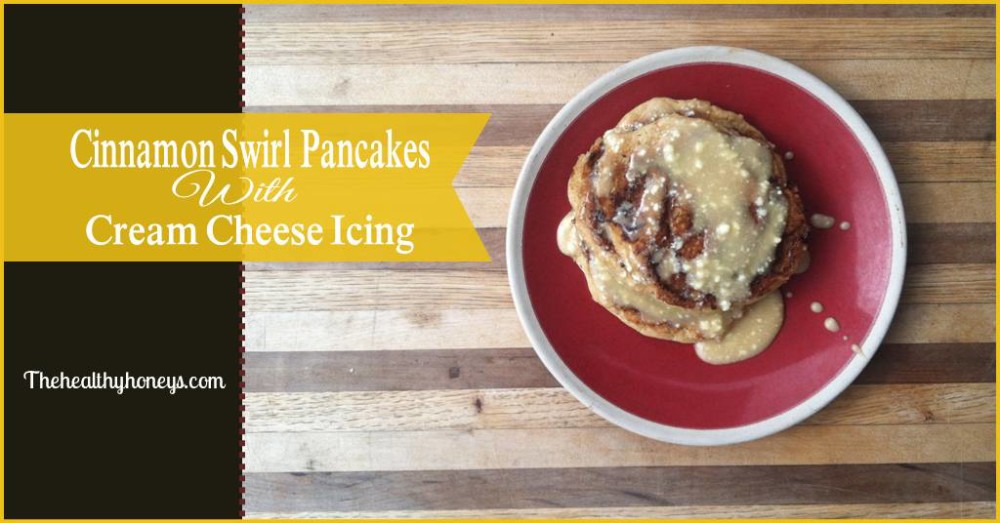 Are you in the mood for cinnamon rolls but not all the work it takes to make them? These yummy Cinnamon Swirl Pancakes are super delicious and just about as easy to make as normal pancakes. A perfect Saturday morning breakfast for the family.
We started by making our family favorite pancake recipe. You start cooking them just like you would normal pancakes but before you flip them the first time you add the cinnamon swirl pancake part. Just drizzle the cinnamon onto the pancake in a spiral or whatever pattern you like. I think letters could be super cute as well. After your done pile them up and add the cream cheese topping and you have yourself a delicious breakfast.
We had our pancakes for a great Saturday morning breakfast. They were fabulous. Of course I love cream cheese, and cinnamon. These cinnamon swirl pancakes had everyone drooling.
Cinnamon Swirl Pancakes
2015-06-22 16:44:38
Ingredients
Pancakes
2 eggs
1 1/2 C. Milk
1/2 tsp. Sea salt (like this)
1 1/2 C. Sprouted wheat flour
4 tsp. Baking powder (like this)
1/3 C. Melted butter
Cinnamon Swirl
1 C. melted butter
1 1/2 C. Coconut palm sugar (like this)
2 Tbs. Ground cinnamon
Topping
1/2 C. Butter
4 oz. Cream cheese
1 1/2 C. Maple syrup (like this)
1 tsp. Vanilla (like this)
Instructions
Combine all pancake ingredients. Mix together. Set aside. Mix Cinnamon Swirl ingredients together. Blend well. Scoop pancake mixture onto greased griddle. Use a spoon or frosting bag to swirl the cinnamon mixture onto pancakes in a circular direction creating a swirl. Flip pancakes as usual. Once served on plates top with cream cheese mixture.
The Healthy Honey's https://thehealthyhoneys.com/
Like this post? Please Share it by:
Pinning it here!