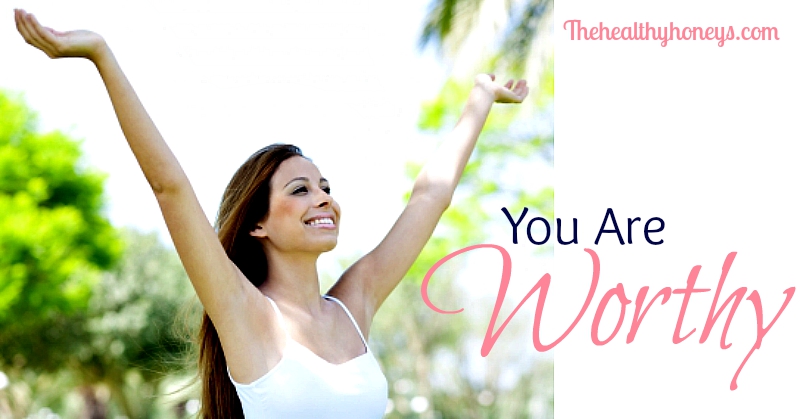 I had an eye-opening experience the other day.
I was at my friend's place when I ask her if she could tell if I was having any hormone imbalance issues… Ok totally weird question but my friend is also my masseuse. So it wasn't actually that weird until I got my answer. Then it became very awkward.
She told me that my blood sugar was off, and that my hormones were indeed struggling. No surprise. I had felt a little weird every time I ate anything too sweet lately. Then she told me it was because I'm too hard on myself. Basically, I'm really good at being my biggest critic.
"Your house isn't clean enough."

"You aren't a fun enough mom."

"Your kids don't listen to anything."

"You need to drop a few pounds."

"People don't really like your blog. You should be funnier."

"Stop being so serious."

"You should be more flirty with your husband."

"Why, oh why did you eat that?"

"You don't have very many friends because you are weird. No one cares to hear about your kefir or homeschooling."

"You need to exercise more."

"Your kids need more quality time with you."

"Why are you so tired? Go go go! Do do do!"
Sound familiar? Please tell me I'm not alone on this one.
So I start nervously chuckling as she rubs my feet. I'm not chuckling because I'm surprised. I'm chuckling because it makes me uncomfortable that she knew. In all honesty I knew I was too hard on myself too. But somewhere along the way I forgot to give myself a break. To sit back and look at the good things and to see how amazing, and unique I am.
My body was SCREAMING at me for a break. It was telling me to stop, take a moment or two to reflect, to set some goals, and to just LOVE myself.
So I have been. And it has made all the difference. No more negative talk. Instead, I think about my son, and how he claps every time he feels like he did something awesome. I think about my daughters and the smiles on their faces when they complete a painting. And I praise myself too. It may sound like voodoo but its true that we create our own reality. If you look in the mirror and tell yourself that your worthless, fat, and ugly. You will behave in a way that promotes those very things. You'll quit working out, you'll wear yoga pants, and you'll eat extra dessert to pity yourself. But, if you look in the mirror and tell yourself you're awesome, you look beautiful today, you are strong, you are unique… then you will smile easy, you will wear your skinny jeans because you make them look hot, you will work out because you want to stay strong. It's all in the outlook on life.
We are all born with the ability to see the good in ourselves, to recognize our own accomplishments, and openly share our achievements and happiness with those we love. Unfortunately, societal standards have a tendency to squish that positivity right out of us. If you are happy for yourself you must be arrogant, and there are bound to be a line of people willing to put you down. We are taught to compare ourselves with everyone around us. Then that internal voice that was once filled with praise and love becomes an abusive companion that you can't escape.
So, how do you turn that around?
Awareness
How do you nurture that voice back into a loving one? For me it started with the abrupt reminder that I wasn't treating myself very nicely. Awareness is the first step to solving any problem. So, let's evaluate… When was the last time you told yourself that your beautiful? When was the last time you told yourself that you are an awesome mom, employee, daughter, sister, wife, or friend? When was the last time you told yourself that you are capable, strong, fun, alive? When was the last time you told yourself that you love being you? If it's been a while, then you are now aware that something needs to change.
Take Care of Yourself
It's time to treat yourself like your special, because YOU ARE. Go get a massage, go to bed early, go buy those shoes you've been eyeballing, get a haircut, go jogging to feel good, just do something that makes you feel good about yourself. And don't just do it once. Do something every single day. Your actions will help create your reality. When you make yourself a priority your thoughts will change. Not only that but other people often see us the way we see ourselves. How others perceive us is really up to us.
Set Goals, or Forget the Goals
Not to be confused with the unattainable kind that so often becomes a list of failures on the new year. I'm talking about daily measurable goals and to do lists. If you have a list and you mark it off, then at the end of the day you have a better measure of what you accomplished. If you complete 80% of your list that is fantastic. There are days that my list includes taking a shower, and hugging my kids.
Or, if that is too much pressure instead of rewarding for you, then forget about goals and focus on living in the moment. Let go of the to do list in your head and go run through the sprinkler, read a book, have a pillow fight, laugh…just be 100% present in the moment.
Let Go of the Past
Most of us have experiences from our past that bring us down. Whether we were miss treated by a parent, friend, teacher, coach, or significant other we have all been abused on some level. I got called, "duck lips" repeatedly in fifth grade. Ironry has it that those same duck lips were called, "kissable" years later. It's how we responded to that abuse that makes the difference for the now. Some people are very good at brushing things off, others internalize everything, and some of us sit somewhere between. If you are harboring emotions from your past, such as feelings of worthlessness, feelings of not being able to measure up, or feelings of inadequacy then its time to let it go.
Find a moment to look inward, to reflect on these moments where you built a false reality out of something someone said. If you were told that you weren't capable of something then you would think about your reaction. If you believed them, then you need to play out a different ending in your head. Instead, imagine yourself laughing at them, and with confidence replying, "I most certainly am capable. I can and I will, because I am amazing, and if I want it I can achieve it." You will need to adapt the above situation depending on where it is in your life you criticize yourself. Then take a deep breath, or two, and evaluate how you feel.
Focus – Law of Attraction
As thinking human beings we can create a lot of good, or a lot negativity within our own heads. We have between 50 and 70 thousand unconscious thoughts per day. Unfortunately, on average, 80% of those thoughts are negative. To first start using the law of attraction focus on those unconscious thoughts. Do you think more about the bad things in your life or the good things?
After you are aware of the places you need to make changes in your thoughts you can use some of these tips to help:
Create a vision board.
Write a mantra that you can repeat when those negative moments come knocking.
Keep a gratitude journal, write in it daily or say gratitude prayers.
Meditate and visualize that the way you want your life to be is how it is now (Feeling is believing).
Toss your worries. When you begin to think negatively, or worry write it down, with the intention to forget about it for a while. Come back to it in a few weeks and see if it is still relevent. It probably won't be.
Create a New Voice
It's now time to create a new voice inside your head. Think hard about the way you talk to yourself, and how you express your thoughts to others. Often even our noble efforts at positivity are actually expressed with a negative connotation. For example, instead of saying, "I'm going on a diet to lose weight. I want to be healthy and sexy. I'm going to make this happen." Say, "I want to eat healthy today so that I will feel good. I love going hiking. I'm going to do that today because it is fun and I will feel invigorated and healthy when I'm done." Instead of saying, "I want/need more money. I'm going to look for a better job/second job to make that happen." Say, "Dollars want me. Money will naturally come to me because I have a lot to offer this world."
Additional Reading
Like this post? Please share it by:
Pinning it here!