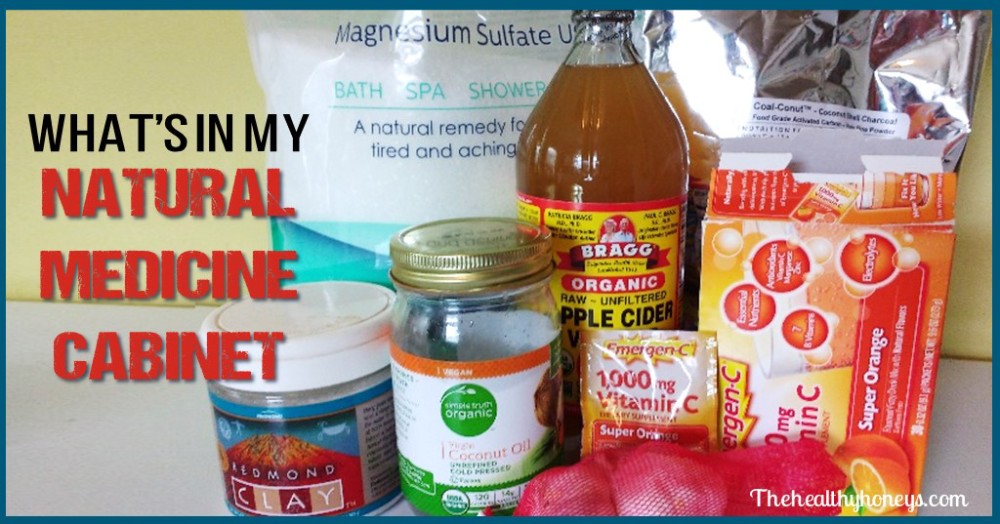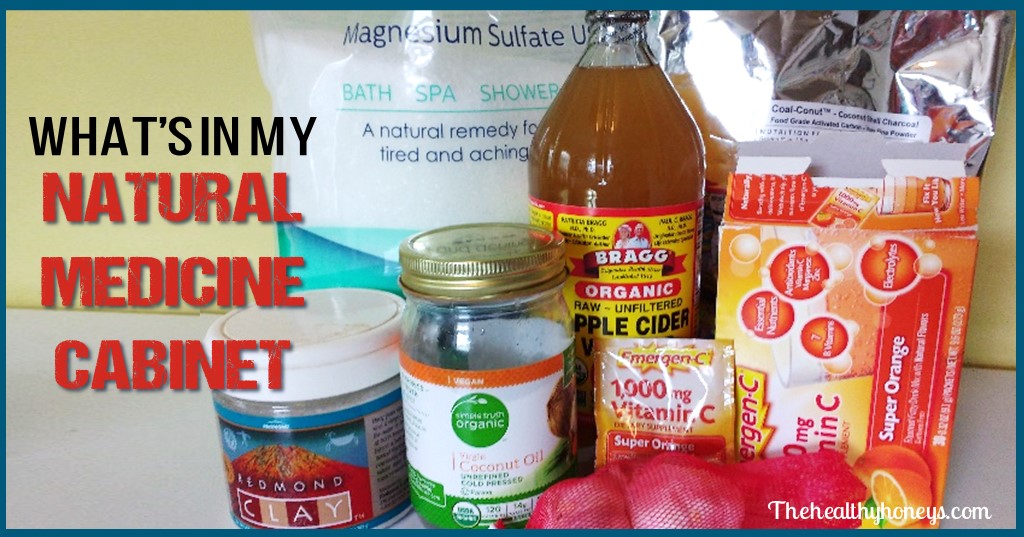 We rarely go to the doctor for sickness. Instead we rely on great natural medicine and they almost always get us back to normal without a problem. Building your natural medicine cabinet might take some getting used to. Home remedies aren't always used the same way as conventional medicine but nonetheless they can be used to prevent disease or speed recovery.
Natural Medicine Cabinet Foods:
Apple Cider Vinegar: Apple cider vinegar has a ton of great uses. It is full of pre-biotics, so it will boost your immune system and is a great daily supplement. Whenever we come down with something we always add this to our day. I also used it a lot during pregnancy for heartburn and acid reflux. It works so quickly. It can also be used for lowering blood pressure, diabetes, weight loss, allergy relief, common cold, and wart removal. When buying an apple cider vinegar make sure to get one with the mother. This one is great.
Garlic: Garlic is a natural anti-biotic, anti-viral, and anti-fungal which makes this home remedy a natural go to for just about anything. Add it to your diet or take it whole. This can also be crushed and made into garlic oil and used topically for rashes, and athletes foot. It will also absorb into your skin for quick access to stop a cold or flu in it's tracks. I use this a lot for ear infections by dropping some garlic oil in the ear until the ear infection resolves. Garlic also helps boost the immune system.
Coconut oil: Coconut oil is a great carrier oil for the garlic as I mentioned above. When uncooked it is also antibacterial so can be used for a lot of the same things as garlic without the stink. It can be used to treat receding gum lines and for detoxification through the mouth with oil pulling, used topically to treat skin conditions, or taken internally to boost energy, reduce candida and other bacteria in the body, and boost weight-loss. I use this a lot in cooking as it is a stable fat that stays healthy when cooked. I also use this a lot when making garlic oil and in my homemade toothpaste, as a hair protectant when using straighteners or curling irons, as a lotion…and the list goes on. A good coconut oil should be cold pressed. This is a good one.
Cinnamon: Cinnamon is a wonderful food to include in your diet. It is huge in regulating blood sugar and circulation. This makes it great for treating headaches, boosting memory and cognitive function. It is also useful for colds, diarrhea, digestion, and bad breath.
Cayenne: Cayenne can help decrease upset stomach, sore throats, coughs, and diarrhea. It aids in mucus removal thus speeding recovery for cold and flu. We've used it to prevent migraine headaches. It has anti-fungal and anti-allergen properties. It is great detox and it is great for the blood and lymph systems.
Natural Medicine Cabinet Supplements:
Activated Charcoal: Activated Charcoal absorbs organic toxins, chemicals, and poisons before they can affect the body. It can be used to whiten teeth, treat accidental ingestion of toxins or chemicals (still call emergency room if needed), food poisoning, bug bites (just mix with baking soda). This is a good one.
Charcoal should not be taken within 3 hrs of vitamins and minerals or medications as it will keep the body from absorbing them. Activated charcoal is not something I would take on a regular basis but in situations where you want to draw out toxins or poison it is a good option.
Epsom Salt: Epsom salt is amazing for Epsom salt baths. This can help draw out toxins from the body. Epsom salt baths also allow the body to absorb magnesium which can treat a number of things. (hiccups, ADHD). It can provide headache relief, improve sleep, promote relaxation, and provide minor sunburn relief. I like to get my epsom salt in bulk through here.
Vitamin C: Vitamin C is a great immune booster and can help kick a cold quick. The best form of vitamin c is derived from a natural source and not manufactured ascorbic acid. It is best to get Vitamin C from foods. Brightly colored foods such as bell peppers, citrus fruits, broccoli, and cauliflower are high in vitamin c. You can make a vitamin C powder from oranges or can buy a supplement. This is a great one or you could use camu camu powder. Vitamin C is an essental for any natural medicine cabinet. We use this camu camu powder.
There you have it. This is what we keep around in our natural medicine cabinet. What do you keep in yours?
Like this post? Please share it by:
Pinning it here!