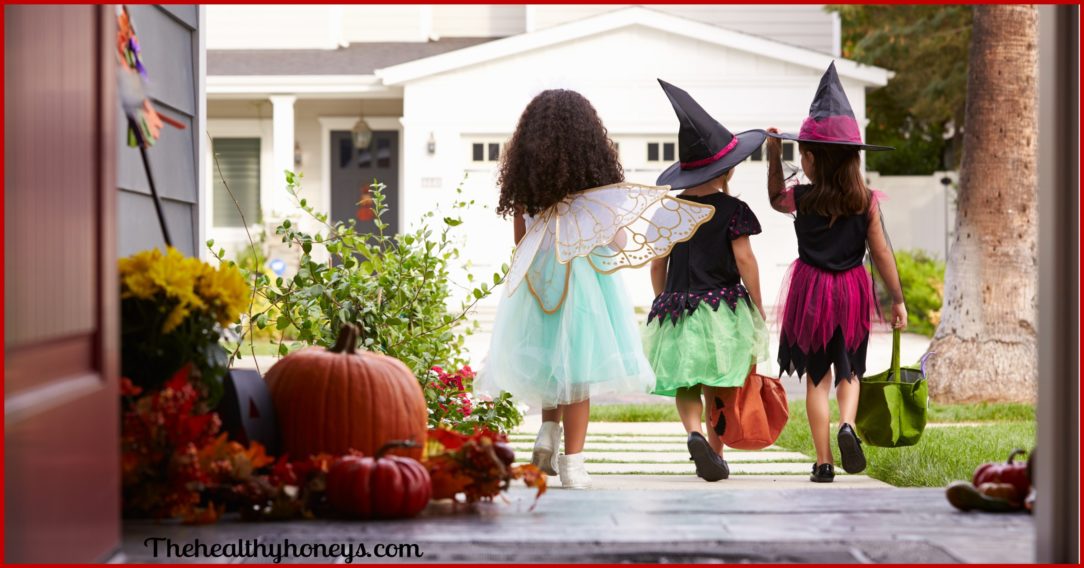 Halloween has been so hard this year. I did the least amount I could with the kids Halloween costumes… then begrudgingly spent $30 on chocolate because if I was going to buy candy at least it was going to have some fat and protein in it. We've gone through a few different theories as we've tried to figure out Halloween. So I decided to compile a list of Healthy Halloween treats and alternatives to the seemingly pointless gorging on candy.
I was tempted to completely ignore Halloween. Where is the fun in sending my kids out to gather candy with food dye and sugar in it? I can't ignore the consequences of staying up late and loading up on sugar. It makes everyone super cranky. Then I think at least there is chocolate, right?…. but then I'm reminded of how a lot of chocolate is grown by child slaves on the Ivory Coast and I'm saddened even more. I love the idea of giving something that isn't candy. Some of my favorites have been treats that can double as school snacks like pretzels, fruit strips, crackers…ect.
Dealing with treats coming in on Halloween!
Whether or not it is okay for kids to eat a mountain of candy on Halloween night is a topic with many diverging opinions. I don't know if I should let them eat all their Halloween candy at once or eat one each day. I think there is more to look at here than just the physical health aspect. Halloween night is the perfect opportunity to teach our kids the effects of eating a ton of sugar in one night. And also helping them learn self-control with addictive food on their own. I believe that it is the parent's job to provide freedom within boundaries. After they have an appropriate amount of candy we do one of the following:
Eat what you want Halloween night then load up the candy and take it to a dentist or school that is offering money or something in return. This year my children's school had a fall festival. You could take your candy in and exchange it for stamps on your punch pass that allowed you to do activities at the festival.
Have you heard of the switch witch or candy fairy? Halloween night their candy is switched out for a fun bag of prizes chosen by mom. Then mom can choose some healthy Halloween treats or prizes to switch out. There is even a Switch Witch book and doll you can buy to make it fun.
Save your chocolate candy in the freezer and add it to desserts or treats you take around for the Holidays.
Giving out Healthy Halloween Treats
Offering healthy or candy free alternatives on Halloween is actually a great service. You know the kids are getting plenty of candy. I've found that my kids usually come home and eat the non-candy treats first like the pretzels, cheeseballs, Doritos, or crackers. Offering different treats is really beneficial. Not only do each of us play a role in shaping the culture around us, but we can make a difference in how we contribute to the health and well-being of the children around us. There are also a lot of children who get left out of Halloween because of allergies or food sensitivities. Put out a teal pumpkin on Halloween night if you are offering allergy-friendly treats or toys. My practical side wants to give out something at least useful so my first preference is something that can be used like the school snack. Here is a list of some other great things we can give out:
Healthy Alternatives
My kids love bouncy balls. Add some Halloween spirit to them by finding eyeball bouncy balls or faces!
Who didn't love snap bracelets as a kid?
Fruit Strips were actually a surprisingly great Halloween treat. My kids love adding these to their collection.
This is a personal favorite but you've got to make sure you order them a bit in advance. Such a simple and fun idea.
Bat clappers are so fun to play with for a while and then toss.
These Glow in the dark tattoos will add a great spooky element to Halloween.
We've never gotten these while trick or treating but I love the idea of them. Slinkies are hard to keep nice so you know that your trick or treaters most likely don't have a good slinky hanging around.
Want something a little smaller and more practical. These spider rings are for you!
Kids love bubbles and they will be sure to love these Halloween character ones too!
This is another favorite although it is a bit more pricey it is sure to be a big win!
Hopefully, these Halloween candy alternatives give some more hope this Halloween season.
Like this post? Please share it by:
Pinning it here: