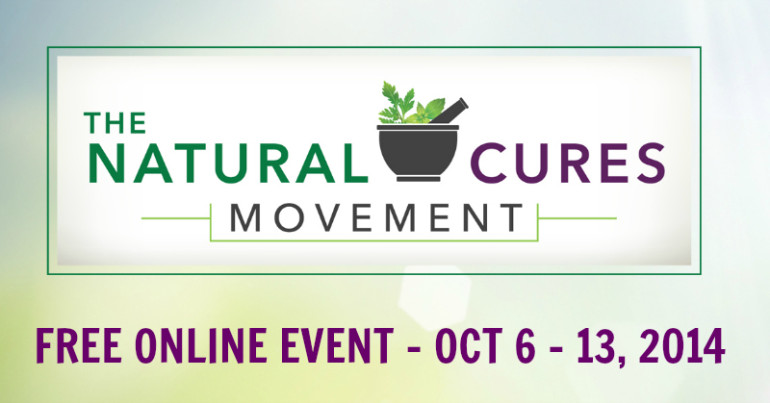 I don't know if you feel the same way I do lately, but in today's world the threats to our health seem to be mounting. Whether it is the common risk of contacting the flu, or something more serious like the increasing number of people who are developing food allergies, or media blasted scares like Ebola. Our health is delicate and at risk at every turn.
For me personally, I am constantly studying and searching for answers to optimize my health, to cure my ailments, and live life to the fullest in so doing. This empowerment is not always easy to find. Natural health techniques although very real and useful are often shoved aside by big business as quackery. That is why opportunities like this free natural cures event are so very valuable and should not be missed!
The Natural Cures Summit is online and FREE from October 6­-13, 2014!
The best part is you can make up a batch of organic popcorn slathered in pastured butter and sea salt, slip into some yoga pants, and watch it for FREE at home!
Sit back and enjoy learning from the top doctors, nutritionists, naturopaths and health experts in the world. Empower yourself by discovering the best natural remedies and treatment protocols using plant­-based medicine for specific conditions like hypothyroidism, autoimmune disease, arthritis and inflammatory bowel disease and so much more! Click here to register for FREE now!

Some of the presentations are:
Dr. Joseph Mercola, Take Control of Your Health & Insulin
Dr. Josh Axe, Natural Cures for Leaky Gut
Sayer Ji, 10 Food Medicines That Could Save Your Life
Dr. Tom O'Bryan, Overcoming Gluten Sensitivity
Katie Wellness Mama, The Coconut Oil Cure
Kristen Michaelis, Natural Remedies for Pregnancy and Infertility
Suzy Cohen, RPh, Natural Remedies for Thyroid & Autoimmune Disease
Vani Hari, How to Cure Yourself Despite Food Companies and Your Doctor
Bonus Freebies!
By registering now you will have access to watch the first 2 talks of the summit:
Dr. Tom O'Bryan: Secrets to Overcoming Gluten Sensitivity
Suzy Cohen, RPh: Top 10 Natural Cures for Diseases you THINK you have
You will also get the "Go Naked Cookbook" by Dr. Josh Axe and Cynthia Pasquella. This eBook contains 100+ gluten-free recipes that support healing naturally.
Click here to register and join me in your Pj's to listen to The Natural Cures Movement from October 6-13, 2014!